Goshen College offers new degrees for adults: social work and business administration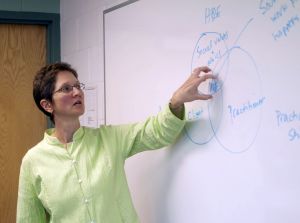 With classes beginning in January 2013, Goshen College is now taking applications for two new programs of study as part of an expanded educational offerings for adult students: a Bachelor of Arts in Social Work degree and the Bachelor of Science in Business Administration degree.
The two programs join current Goshen College adult programs of an R.N. to B.S. in Nursing and a B.S. in Organizational Leadership. The new Master of Arts in Intercultural Leadership program also begins classes in January. All three new programs represent a new level of investment in better meeting the demand for adult studies.
Visit the adult programs page to learn more about these programs, or call (574) 535-7527 or 800-348-7422.

Bachelor of Arts in Social Work degree
Responding to growing demand for social workers, Goshen College is now offering the Michiana region's only Bachelor of Arts degree in Social Work for nontraditional students. Accelerated classes consisting of five seven-week sessions will combine classroom and online learning as well as internships to enable adult students with an associate degree to achieve a bachelor's diploma in 18 months.
According to the Bureau of Labor statistics, the demand for social workers is expected to grow 25 percent by the year 2020. Goshen's social work program is nationally known and respected, with a high placement rate for its graduates and a licensing pass rate of 100 percent.
Graduates in social work are employed by a range of private, government and non-profit organizations which include schools, nursing homes, retirement communities, mental health and healthcare providers, and agencies addressing a host of social and personal issues such as child welfare, addictions and unemployment.
"Our reputation in this area is well known, and we're 100 percent committed to providing the same quality of education that's found in our traditional program," said Jeanne Liechty, social work program director and professor of social work. "Students will get direct practice experience while being closely supervised by community professionals in a variety of social service areas. They will also benefit from the expertise of our faculty, who bring a range of practice experience into the classroom, and who are prepared to give each student personalized attention."
In fact, 90-plus percent of Goshen College social work alumni have been granted advanced standing in their graduate programs, including the best programs in the country.
"We know organizations are looking for this kind of expertise, and our partnerships and contacts in this area offer excellent placement opportunities," Liechty said. "The Michiana community has a wide array of social service resources."
The accelerated degree includes the study of social welfare policies and programs, methods of social research, social work practice theory, field instruction, and a senior seminar that integrates field study with classroom work. In addition, there is a series of "Core" classes with numerous options to choose from. Two semesters of a foreign language are also required.
"A social work degree can be applied in many different settings and environments; it's a very flexible professional degree which allows people to find the right niche for a rewarding career," said Liechty. "We're very pleased that we've been able to create a delivery model that allows the nontraditional student to pursue this degree while holding a job. We believe this is a significant addition to the curriculum in our region, and will ultimately serve students, agencies and clients well."
Bachelor of Science in Business Administration degree
The Bachelor of Science in Business Administration (BSBA) degree program's basic structure consists of four-hour, one-night-a-week classes on campus, supplemented by online learning, in accelerated seven-week sessions that are offered in a year-round sequence. This schedule supplies a great deal of flexibility for busy adults. Student resources include an iPad for class use, and all other resources available to traditional students.
"Many people don't know we have a full business degree offering in a non-traditional student format," said Michelle Horning, business department chair. "But, in fact, Goshen College has a lot of advantages for adult students."
The college is very accessible, less than a 60-minute drive for a half a million people. It is the only Elkhart County college with a complete campus and all the student resources, from the library to the gym, such a campus provides.
"We employ some online class work, but the benefits of learning in a physical class setting are also significant, especially in establishing helpful relationships with other students and faculty," said Jim Hess, director of the BSBA program. "There's also something to be said for simply going to a physical campus. It helps people focus on why they're here."
Employers in the region are well aware of Goshen College and the quality of its graduates, allowing it to have a high job placement rate, said Hess.
"A non-traditional degree from a highly respected traditional college means something in the marketplace," he added. "So Goshen College has a lot to offer the adult student in terms of improving their career as well as getting a degree.
"There is financial aid available if needed, making this quality program affordable for working adults. And the program is designed with their busy lives in mind, including the fact that the full application process can be taken care of in one stop."
The BSBA degree is very flexible and applicable to a wide range of business, non-profit and government positions. The course list includes such topics as entrepreneurship, human resource management, business law, principles of management, principles of marketing, financial management and management strategy.
In addition to transfer credit for coursework done at other colleges, students can receive up to 12 credit hours for knowledge they've already acquired on the job, through different kinds of training.
"We expect this degree program and others we're creating will help Goshen College become known for one more thing: a prime educational resource for the non-traditional student," said Randal Gunden, executive director of Adult and Online Programming.