Kiplinger's ranks Goshen College as 75th best value among private liberal arts colleges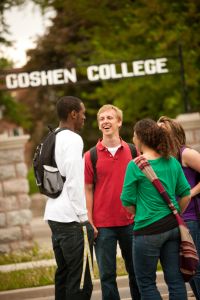 Goshen College has again been named one of the top 200 best values among all private colleges by Kiplinger's Personal Finance. The magazine recently announced the top private universities and liberal arts colleges that combine outstanding quality with affordability. This year, Goshen College moved up five positions and was ranked 75th among liberal arts colleges, which places it second among Indiana liberal arts colleges.
While continuing to maintain a quality college education and strong student satisfaction, Goshen College is also an affordable option by having a lower sticker price, offering significant financial aid packages and keeping graduation debt levels down.
Goshen College costs 10 percent less than the national average for private colleges.
Last year, 99 percent of all Goshen students received financial aid and the average aid package was $19,470 (not including work-study).
The college has kept debt down for graduates: 2010 graduates had an average of $18,953 of total debt, which was lower than the averages for Indiana public and private colleges and universities, as well as the average for all U.S. colleges and universities.
The next opportunity to visit Goshen College during a Campus Open House is on Nov. 9. Go to www.goshen.edu/admission/visit/openhouse to register. The priority application deadline for next school year is Dec. 15.
Kiplinger's chooses from a pool of more than 600 schools and creates two lists – the top 100 best values in private colleges and the 100 best values in private liberal arts colleges (which Goshen is on). The schools on the two lists were ranked according to academic quality and affordability, with quality accounting for the majority of the total. Criteria included cost and financial aid, competitiveness, academic support, graduation rates and student indebtedness.
"The institutions on Kiplinger's rankings for best value in private colleges represent schools that provide high-quality academics as well as affordable cost even in these tough times," said Jane Bennett Clark, senior associate editor for Kiplinger's Personal Finance. "With money tight and the college choice so important, you have every reason to expect the best bang for your buck."
The rankings are available online at www.kiplinger.com/links/college, and will be published in the magazine's December issue on newsstands Nov. 6.
KIPLINGER'S BEST VALUES IN PRIVATE LIBERAL ARTS COLLEGES
Illinois, Indiana, Michigan and Ohio schools ranked by Kiplinger's Personal Finance for 2012-13
20. Hillsdale (Mich.) College
21. Denison University (Granville, Ohio)
24. Kenyon College (Gambier, Ohio)
34. DePauw University (Greencastle, Ind.)
35. Wheaton (Ill.) College
43. Kalamazoo (Mich.) College
44. Oberlin (Ohio) College
54. Illinois Wesleyan University (Bloomington, Ill.)
55. Principia College (Elsah, Ill.)
57. Knox College (Galesburg, Ill.)
64. The College of Wooster (Ohio)
67. Hope (Mich.) College
75. Goshen (Ind.) College