Del McCoury Band returns to the Goshen College stage Nov. 3; Ticket discount available
Performing Arts Series Concert: Del McCoury Band
Date and time: Saturday, Nov. 3 at 7:30 p.m.
Location: Goshen College Music Center's Sauder Concert Hall
Cost: 15 percent special discount off regular prices for all in-person or phone sales with mention of promo code "PAS." Non-discounted tickets: $40, $35, $25
For more information: Call (574) 535-7566 or e-mail welcomecenter@goshen.edu
Website: www.delmccouryband.com
---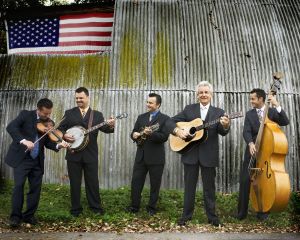 The much-loved bluegrass of the Del McCoury Band will return to Goshen College for a Performing Arts Series concert on Saturday, Nov. 3 at 7:30 p.m. in the Music Center's Sauder Concert Hall.
Since he was last here in 2004, Del McCoury has received a National Heritage Fellowship lifetime achievement award and was elected into the International Bluegrass Music Hall of Fame, honoring his 50-plus years making music. Del McCoury and his faithful band demonstrate that bluegrass isn't just for those with an acquired taste; it's about presence, passion and the musical marriage of sound old and new.
A 15 percent special discount off the regular price is being offered for tickets bought in-person or on the phone. To receive the special discount, mention the promo code "PAS." Non-discount tickets cost $40, $35, $25. Tickets are available through the Goshen College Welcome Center by calling (574) 535-7566 or e-mailing welcomecenter@goshen.edu. Non-discounted tickets are also available online at www.goshen.edu/tickets.
Seating for those with disabilities is available and the minimum age of attendees is 5 years old. Tickets are nonrefundable.
The Goshen College Performing Arts Series debuted on Sept. 21, 1997. Since then, the college has hosted more than 100 concerts by some of the world's greatest performers as part of the program.