Goshen College launches Sustainability Semester at Merry Lea with canoe trip of watershed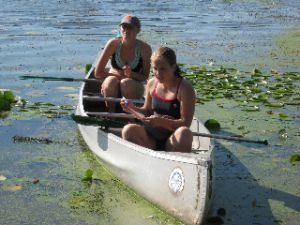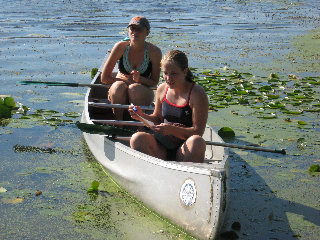 "Launch" is an apt word for the beginning of the Sustainability Semester in Residence (SSR), a new undergraduate program at Merry Lea Environmental Learning Center of Goshen College in Wolf Lake, Ind. Students begin the semester with a weeklong exploration of the Elkhart River Watershed, traveling by canoe when possible.
Seven students, most of whom are environmental science majors, will launch their canoes from Mallard Roost Wetland Conservation Area, east of Ligonier, Ind., on Tuesday, September 18. They'll paddle northwest, tracing the path of the Elkhart River as it winds its way through Ligonier, Goshen and Elkhart and joins the St. Joe River. They'll then follow the St. Joe through South Bend, Niles and Berrien Springs, ending in Benton Harbor where the St. Joe meets Lake Michigan.
Along the way, students will test the water quality of the rivers. They'll also visit a wide variety of residents and institutions along their path. Among the stops are a a gravel quarry, a solar company, and a church that developed an interest in water quality because they baptize in the Elkhart River. They'll also speak with a chef, see a hydropower installation in South Bend and meet a county commissioner.
The watershed trip offers opportunities for collaboration with faculty and students from other universities. In South Bend, the SSR students will spend an evening with students and faculty from the Center for a Sustainable Future, Indiana University South Bend (IUSB). In Berrien Springs, they will share a cookout with Andrews University students and faculty and tour a dairy farm and wastewater treatment plant on campus.
The SSR canoe trip and the courses that follow it are part of a pedagogy called problem-based learning. This form of learning places more responsibility on students to figure out what they need to know and how they can learn it. The faculty are guides and coaches rather than "sages on stage," and the entire watershed is the laboratory.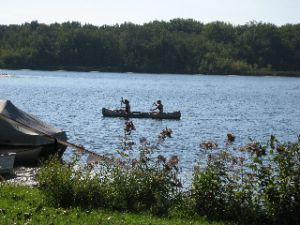 For example, in the SSR's Landscape Limnology course, instructor Lisa Zinn, Wolf Lake, Ind., has posed the question, "How does Merry Lea affect the water quality of the headwaters of the Elkhart River, and what could Merry Lea do to better protect these headwaters?" Students will spend the bulk of the course seeking answers.
On an orientation hike on Merry Lea's property, Dr. Dave Ostergren, who teaches an environmental policy course in the SSR, challenged the students to consider what policies had shaped the landscape they hiked through and what bodies made those policies.
The SSR culminates in an environmental problem-solving project that challenges students to address a local environmental problem.
"We began planning for the SSR in 1999," Luke Gascho, Merry Lea's executive director, told the SSR students on their first day at Merry Lea. That year, when the current SSR students were in second or third grade, Merry Lea staff resolved to develop innovative undergraduate programs on site that would immerse students in the landscapes they are studying. The long process included construction of Rieth Village, a platinum-rated LEED® facility where the students now live.
– By Jennifer Schrock