President opens school year by encouraging students to embrace God's call and become passionate learners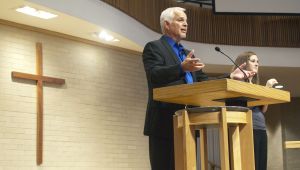 Related links:
---
GOSHEN, Ind. — Goshen College President James E. Brenneman opened the new school year with an impassioned call to action – that all Goshen students fulfill their God-given potential by becoming life-long passionate learners.
"As you enter Goshen College for the first time or as you get ready to graduate this year or if you are anywhere in between, I implore you, while you are here, catch the contagion of passionate learning. Become the passionate lovers of learning that God invites each of us to be. If you do, you will never be the same for the rest of your days," he said.
Speaking on Wednesday, Sept. 5 at the first all-campus convocation of the 2012-2013 academic year, the president offered faith, academic and career advice during an address titled "On Becoming a Passionate Learner."
Brenneman, a 1977 graduate of Goshen College who is starting his seventh year as president, began by welcoming students, faculty and staff to a new school year. He led the crowd in cheering for seniors, juniors and sophomores, first-year and transfer students, fans of technology and those who love books, newspapers and learning.
The president's primary message focused on passionate learning, one of the college's core values, and a subject for in-depth discussion and reflection during the coming school year. The college's other core values are Christ-centeredness, servant leadership, global citizenship and compassionate peacemaking.
In introducing the topic, Brenneman recalled the colorful life of Professor Emeritus Merle E. Jacobs, an avid researcher of dragonflies, fruit flies, fish and birds. Jacobs, who taught at Goshen from 1953-54 and 1964-85, died in April 2008.
Brenneman said that when Jacobs was a boy, growing up in the Appalachian Mountains of southwest Pennsylvania, he loved all birds but was most passionate about yellow canaries. From a pair of birds, Jacobs developed a flock of 67 canaries – all living inside his family's home. Fifty years later, Professor Jacobs was Brenneman's genetics professor at Goshen College.
"Professor Jacobs was still obsessed with canaries and other birds, but he had branched out making quite a name for himself studying the genetics of aging in fruit flies. He loved his fruit flies almost as much as his canaries and almost as much as current Assistant Professor of Biology Andy Ammons loves his honeybees," Brenneman said.
"If any of you haven't yet stood in the midst of thousands of honey bees swarming all around you, while Dr. Ammons gives a lecture on the sex lives of honey bees, you haven't yet lived on the edge of learning," he said. "Professor Jacobs embodied, as Assistant Professor Ammons still embodies, the core value of passionate learning."
Besides helping to develop greater expertise in one's chosen vocation, Brenneman said that a passion for learning would have practical career implications for graduates.
"I can almost guarantee, that when you go to your first post-graduation job interview, one of the top questions you will be asked is this: 'What are you passionate about?'" Brenneman said. "In his best-selling book, Corner Office, Adam Bryant interviewed over 700 leading CEOs in America and asked them: 'What qualities do you see most often in those who succeed?' Their overwhelming response was 'passionate curiosity.'"
Although many people may believe a passion for learning is commonplace, Brenneman said in fact it is a "revolutionary" idea: "In the western philosophical tradition, the juxtaposition of passion with learning was damnable. The word passion, or pathos, was associated at one extreme with intense suffering, as in 'the passion of Christ.' Indeed, for nearly 2,400 years or so in learning circles, the idea of passion or pathos was considered a counterpoint to thinking or learning, like two magnetic learning poles repelling each other."
Brenneman said the western tradition idealized thinking and belittled feelings, because it was believed that ideas were best accessed through reason, whereas passions were dangerous and misleading and operated on the lower level of human nature.
"God, by contrast, was considered 'Pure Thought' whose divine essence was thinking. God was above joy and sorrow and passion," Brenneman said. "So it was that for nearly 2,000 years, Christian and Jewish theologians were embarrassed by the God portrayed in Scripture – a God full of passion; sometimes angry, sometimes elated, sometimes jealous, sometimes forgiving, at times weeping, showing compassion, intimate, personal."
Given those longstanding biases, Brenneman said that Goshen College's decision to claim passionate learning as a core value, "goes against the grain of the old story of western learning tradition and reclaims a missing piece – supported by Scripture – of a truly comprehensive liberal arts education."
Brenneman pointed out that Albert Einstein had many passions outside physics, including sailing, playing his violin and building elaborate houses of cards. Einstein stated that his varied experiences sparked his creative imagination. In fact, Einstein credited the musical perception he developed as a child as the creative force behind his greatest insight, the Theory of Relativity.
"I find it rather ironic, then, that in our quest these days to strengthen science, technology, engineering and math (STEM) programs in our schools, we are more and more inclined to cut budgets for the arts and music, somehow imagining that those programs should be extracurricular and play second fiddle to the hard sciences," Brenneman said. "So to our shame and to the long-term learning deficit at the highest levels of learning, students are getting more math without music, more science without images, more engineering without poetry, more technology without intuition and knowledge without imagination."
Fortunately, Brenneman said, passionate learning is celebrated at Goshen College among students and faculty. He described a number of faculty members who are living out their passions for learning by exploring the physics of sound and shapes of bells, connecting with God and others through art, discovering a gene that causes blindness in homing pigeons and much more.
He also paid tribute to Rocio Díaz, the community outreach coordinator for the Center for Intercultural and International Education (CIIE), who is pursuing a bachelor's degree at Goshen College despite great odds. "Here is a Latina first-generation immigrant to the United States, a mother who first helped put her own two daughters through college, and then, while working full-time, taking classes in her second language, has managed to go to GC and keep her GPA up to 3.7. Wow! That's a passion for learning."
Brenneman encouraged students to pursue passionate learning with all of their senses — a quest, he said, that was grounded in the teachings of Jesus Christ.
"When Jesus claimed that all of Scripture could be summed up in two phrases, the first of the two, pretty much defines, theologically, the meaning of being passionate: 'You shall love the Lord your God with all your heart, with all your soul, with all your mind and with all your might.'
"Jesus uses the word love and adds intensity to it. Love combines with passion to multiply endurance, discipline and self-sacrifice – all the ingredients you need to succeed over time," Brenneman said. "So Jesus says, to love, desire, with all your senses. Love with every ounce of your mental powers. Love with every tensile of every muscle. Love passionately, love intensely, love with all you got."
Brenneman's remarks were preceded and followed by music. Assistant Professor of Music Christopher Fashun performed a percussion solo on a marimba. Afterward, Department Chair and Professor of Music Beverly Lapp and a string quartet led the campus community in singing the Alma Mater.
Afterward, and in what has become an 11-year tradition, the Goshen College "Tunnel of Welcome" or "Applause Avenue" was formed — two lines departed the sanctuary led by faculty and staff, who applauded the seniors, juniors, sophomores and finally the first-year students. Normally, the line progresses outside the building, but rainfall prompted a change in destination and all were treated to popsicles in the church Fellowship Hall.
–Written by Richard R. Aguirre