Community School of the Arts appoints Kristen Kauffman as new Rejoice choir director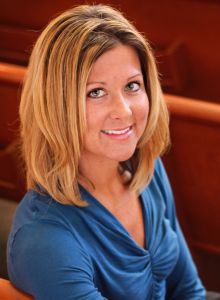 The Goshen College Community School of the Arts (CSA) is pleased to announce the appointment of Kristin Kauffman as the new director of the Rejoice children's choir, a community chorus for area boys and girls in grades 3 through 5.
A soprano, Kauffman has taught private voice lessons to students in the Penn-Harris-Madison and Concord school districts, as well as at Bethany Christian Schools. In August, she began teaching voice lessons to students in the Goshen Community Schools. She was vocal music teacher at Central Noble High School and Central Noble Middle School in Albion, Ind. from 2000 to 2004, where she directed six choirs, provided private voice instruction and taught courses in music theory and musical theater.
Kauffman also serves as a guest song leader for area retreats and conferences, as a flute and vocal soloist and as an adjudicator with the Indiana State School Music Association. She remains active in music at her home congregation of Belmont Mennonite Church, where she directs the Belmont Children's Choir and serves as congregational song leader. Kauffman is a 1998 graduate of Goshen College with a degree in K-12 music education.
CSA offers two community choirs: Rejoice and Shout for Joy, directed by Sandy Hill, for students in grades 6 to 8. All area youth in grades 3 to 8 may audition for the choirs regardless of singing experience or past participation.
Both choirs rehearse Thursday evenings from 7 to 8:15 p.m. in the Goshen College Music Center. Concerts take place in the Music Center's Sauder Concert Hall and elsewhere in the Goshen area. Tuition is $130 for the year with registration through the Community School of the Arts required. Financial aid is available. Visit www.gcmusiccenter.org for more information.