Oberlin Conservatory's Katelyn Emerson to present organ recital on Sept. 9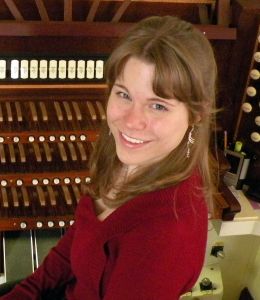 Organ Recital Series: Katelyn Emerson, organist
Date and time: Sunday, Sept. 9 at 4 p.m.
Location: Goshen College Music Center's Rieth Recital Hall
Cost: Tickets cost $7 for adults, $5 for students/seniors, available at door one hour before concert
---
GOSHEN, Ind. – Katelyn Emerson, an organ student at Oberlin (Ohio) Conservatory and an American Guild of Organists "Rising Star," will present a concert of organ music in Goshen College Music Center's Rieth Recital Hall on Sunday, Sept. 9 at 4 p.m.
Emerson will perform works by J.S. Bach, C.P.E. Bach, Buxtehude, Sweelinck, Brahms, Mendelssohn and more. Rieth Recital Hall is home to Goshen College's Taylor and Boody pipe organ, a 1,600-pipe tracker instrument that was dedicated in 2005.
Tickets cost $7 for adults and $5 for senior/students, and are available at the door one hour before the concert.
Emerson of York, Maine, is a junior at Oberlin Conservatory studying organ performance under James David Christie and French. She began her organ studies in 2005 through a scholarship of the Young Organist's Collaborative in Portsmouth, N.H., and, since then, has performed throughout the eastern United States.
She has studied with Olivier Latry, organiste titulaire of the Notre Dame Cathedral in Paris; Ray Cornils, municipal organist of Portland, Maine; and Dr. Abbey Halberg-Siegfried, organist of St. John's Episcopal Church in Portsmouth, N.H. Emerson has studied improvisation with Balint Karosi, and also studies piano with David Breitman, and harpsichord and continuo with Webb Wiggins.
Emerson won both the American Guild of Organists' (AGO) Cleveland Chapter and Region V competitions of the Quimby Regional Competition for Young Organists. During the summer of 2012, she performed as a "Rising Star" at AGO's national convention in Nashville, Tenn. She also won first place in the 2010 L. Cameron Johnson Memorial Competition for High School Organists.
Emerson is the music director of St. Paul Lutheran Church in Amherst, Ohio, where she leads worship through piano, organ and directing the choir. She was also the 2012 Oberlin Sacred Music Intern at Brick Presbyterian Church in New York City, where she studied church music under Keith Tóth. She has attended McGill's 2009 and 2011 Summer Organ Academy and, in summer 2011, was honored with a scholarship to attend the Summer Institute for French Organ Studies in Épernay and Poitiers, France.