Two students awarded theological fellowships
GOSHEN, Ind. – Two Goshen College students were awarded a 2012 Fund for Theological Education (FTE) Undergraduate Fellowship. Seniors Jeffrey Moore and Emily Hedrick received the fellowships to help fund their ministerial explorations. FTE is a nonprofit organization that seeks to cultivate and support young Christian leaders through a summer conference.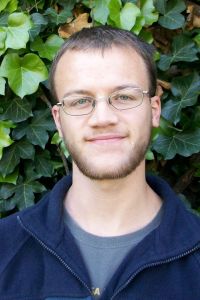 Moore is from Ashland, Ohio, majoring in Bible and religion and communications. He regularly takes part in Bible studies on campus, and this summer he is participating in the Ministry Inquiry Program this summer by shadowing the lead pastor at Oak Grove Mennonite Church in Smithville, Ohio.
At the FTE conference, Moore was pleased to interact with people from various theological backgrounds. "I formed relationships with a diverse group of people who will be valuable friends and colleagues down the road as I explore my ministerial options," he said.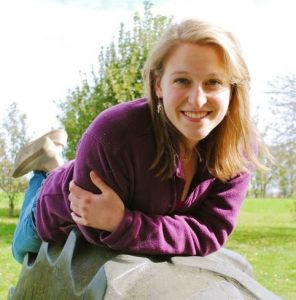 Hedrick is from Telford, Pa., majoring in music and Bible and religion. She has served as a student ministry leader and chapel planning assistant, and this summer she is working on a farm in London, Ohio.
Bob Yoder, Goshen College's campus pastor, nominated both students for the fellowship, which is funded by Lilly Endowment Inc. Goshen College students have been chosen for this program several years in a row, and according to Yoder, having two award recipients in one year is uncommon for most schools.
According to its website, FTE was created in 1954 when leading educators, clergy and philanthropists joined together "out of the common concern that the quality of those entering the ministry had declined and that highly talented students were too often choosing other careers."
Each year, FTE awards about 150 new fellowships to students to fund their exploration of preparation for pastoral ministry.
FTE Undergraduate Fellows are selected by a national committee of theological educators and church leaders. Students must be nominated by a professor, school administrator, pastor or campus minister; hold a minimum 3.0 grade point average; have an interest in pastoral ministry and demonstrate leadership in a church or school community. For more information about the fellowship, visit www.fteleaders.org.
—By Anna T. Ruth
Editors: For more information about this release, to arrange an interview or request a photo, contact Goshen College Assistant Director of Public Relations Jodi H. Beyeler at (574) 535-7572 or jodihb@goshen.edu.
###

Goshen College, established in 1894, is a residential Christian liberal arts college rooted in the Anabaptist-Mennonite tradition. The college's Christ-centered core values – passionate learning, global citizenship, compassionate peacemaking and servant-leadership – prepare students as leaders for the church and world. Recognized for its unique Study-Service Term program, Goshen has earned citations of excellence in Barron's Best Buys in Education, "Colleges of Distinction," "Making a Difference College Guide" and U.S. News & World Report's "America's Best Colleges" edition, which named Goshen a "least debt college." Visit www.goshen.edu.