Music Center offers fall music lessons, classes and ensembles for all ages
GOSHEN, Ind. – The Goshen College Community School of the Arts (CSA) is currently accepting registrations for the fall semester. The registration deadline for all private lessons is August 13, 2012. Lessons begin the week of August 20.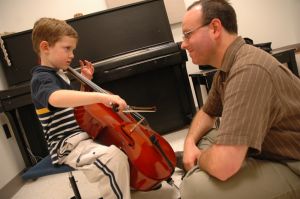 Private lessons for all ages and levels in voice, piano, strings, flute, guitar and pipe organ are available and taught by experienced professionals. Suzuki violin and viola lessons which include private and group instruction are also available for children age 4-8.
Individual Orff method music lessons for diverse abilities and needs will be taught by certified Orff instructor Kent Dutchersmith, who will work with children on music concepts such as steady beat, improvising, rhythm patterns and melodic patterns using xylophones, singing and movement. In addition, Dutchersmith will teach a Homeschool Music Class for grades 1-5 based on Orff techniques in a group setting.
Student instrumental ensembles include CSA orchestras, beginning with Allegro for young note readers, Youth Honors Concert Orchestra for upper intermediate players, and Youth Honors Symphony Orchestra for advanced high school players. Intermediate to advanced flute players may also join the Flute Choir.
Choir and group singing opportunities for youth include the Shout for Joy choir for grades 6-8 directed by Sandy Hill, and Rejoice choir for grades 3-5 led by new director Kristin Kauffman. Auditions will be held Aug. 20-21. Call the GC Music Center office (574) 535-7361 to learn more or to schedule an audition time.
Music Together® classes (music and movement) for preschoolers and a caregiver will be held at the Music Center and other locations in Goshen and Elkhart, beginning in September. Complete class listings will be available at www.gcmusiccenter.org or by calling the Music Center Office at (574) 535-7361.
CSA offerings particularly for adults include New Horizons String Orchestra for players at all levels, in addition to all private lesson options and the Flute Choir.
As a bonus, CSA students and immediate family members may attend many concerts and recitals at the Music Center for free that others pay admission to attend. A list of eligible concerts is available at www.gcmusiccenter.org/concerts.
Last year, 950 students participated in the programs offered through CSA. Space for some programs is limited so early registration is advised. Need-based scholarships are available for most programs. Please visit www.gcmusiccenter.org or call the Music Center office at (574) 535-7361 for more information or to register.