Goshen College appoints James Townsend as vice president for enrollment management and marketing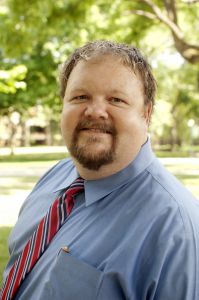 GOSHEN, Ind. – Goshen College President Jim Brenneman has named James Townsend as the college's new vice president for enrollment management and marketing. Bringing more than 25 years of higher education leadership and experience to the position, Townsend oversees the Admissions Office, Financial Aid Office and the Public Relations Office, and serves on the President's Council. He began his role in June 2012.
Brenneman said, "We are excited to have James Townsend join our leadership team. He comes with a successful track record in enrollment management and marketing, and brings special energy and expertise in social media and web-based recruitment. The combination of James' personal rapport, professional skills and spiritual commitment to the Goshen College core values, makes him a great fit for this position."
Prior to coming to Goshen, Townsend (better known on campus as "JT") served in leadership roles at LeTourneau University and Abilene Christian University, both located in Texas. He was an admissions counselor, assistant director of admissions and director of enrollment marketing at Abilene Christian University; and he was the freshman year experience instructor, director of admissions and senior director of enrollment services at LeTourneau University. Townsend serves as the chair of the undergraduate council in the North American Coalition of Christian Admission Professionals (NACCAP) and has presented sessions on social media, sustainability in Christian higher education and admissions counseling.
"What an honor it is to become part of such a tradition of academic excellence within a compassionate Christian environment," said Townsend. "Goshen College is one of the few that truly engages students in exploring what it means to serve others locally and globally, and I look forward to sharing this message with students and parents here in Indiana and around the nation."
Townsend received his bachelor's degree in psychology from Abilene Christian University in 1989, an M.B.A. in human resources in 2005 from LeTourneau University and is expected to receive an Ed.D. in educational leadership in higher education from Grand Canyon University in 2013. His dissertation research is about servant leadership and conflict management in higher education.
Townsend also serves on the President's Council with the vice president for academic affairs, vice president for student life, vice president for institutional advancement and vice president for finance. He can be reached at james.townsend@goshen.edu or (574) 535-7368.
Editors: For more information about this release, to arrange an interview or request a photo, contact Goshen College Assistant Director of Public Relations Jodi H. Beyeler at (574) 535-7572 or jodihb@goshen.edu.
###

Goshen College, established in 1894, is a residential Christian liberal arts college rooted in the Anabaptist-Mennonite tradition. The college's Christ-centered core values – passionate learning, global citizenship, compassionate peacemaking and servant-leadership – prepare students as leaders for the church and world. Recognized for its unique Study-Service Term program, Goshen has earned citations of excellence in Barron's Best Buys in Education, "Colleges of Distinction," "Making a Difference College Guide" and U.S. News & World Report's "America's Best Colleges" edition, which named Goshen a "least debt college." Visit www.goshen.edu.