Sharing the daily feast of flavors, textures and eye appeal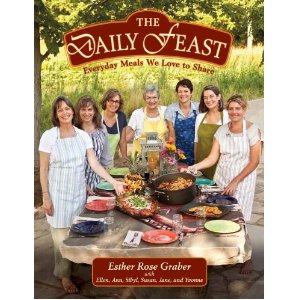 An Indiana-based family of artists that includes six Goshen College alumni has produced a cookbook that is attracting favorable attention because of its delectable recipes, deep cultural connections, beautiful photography and artistic flair.
The Daily Feast: Everyday Meals We Love to Share (Good Books, April 2012) was assembled last fall by Esther Rose Graber  '52 with contributions from Esther's daughters —  Jane Graber Davis '76, Ellen Graber Kraybill '77, Sibyl Graber Gerig '80, Ann Graber Miller '80 and Susan Graber Hunsberger '86 — and her daughter-in-law, Yvonne Shussler Graber.
---
About the book
"The Daily Feast: Everyday Meals We Love to Share" was written by Esther Rose Graber '52, Jane Graber Davis '76, Ellen Graber Kraybill '77, Sibyl Graber Gerig '80, Ann Graber Miller '80, Susan Graber Hunsberger '86 and Yvonne Shussler Graber.
It was published in April 2012 by Good Books, which is based in Intercourse, Pa. The book is $29.95 and is available at many retail booksellers as well as amazon.com and barnesandnoble.com.
Learn more at: www.goodbooks.com/thedailyfeast.
---
Esther Rose Graber explained in the book that all seven Graber women love to cook and compiled several photocopied collections of recipes over the years. Based on positive responses from guests and friends and many requests for recipes, the women decided to compile a cookbook with their favorite dishes. Each of the seven authors provided three complete menus — one for a soup meal, the second for a family weeknight supper and the third for a more elaborate guest dinner as well as their favorite special-occasion meals.
In her introduction to the 252-page book, Esther Rose wrote that the Graber family's love of diverse meals was decades in the making. "Our food memories and experiences as a family go back more than 80 years to the days of pap, cambric tea and impossibly hot curries," she wrote.  "Our heritage is rooted in Amish and Mennonite cooking that unites families and friends around the shared pleasures of the table, but our tastes have expanded through a love of travel. That began with Grandpa Joe and Grandma Minnie Graber, who spent many years in India and brought us their love for Indian cuisine, which Grandma prepared with great skill."
Esther Rose and her husband, Ronald Graber '52, lived and worked in Puerto Rico for 35 years, so the six Graber children grew up with a love for Caribbean cuisine. The children's palettes developed further by spending time in Italy, Spain, England, Germany, Cambodia, China, the Dominican Republic, Bulgaria, Turkey, Greece, Indonesia, New Zealand and Mexico.
The book includes many mouth-watering recipes from around the world, practical advice on the best dishes to round out a meal and Graber family stories. "Each meal takes into account the ease of preparation, balance of textures and flavors and eye appeal," Esther Rose wrote. "Partly because we're a family of artists — watercolorists, book illustrators, potters, designers, musicians — we know these meals will look as beautiful as they taste."
The book features full-color photography of the women preparing meals as well as the finished dishes and informal family photos. Recipes include such favorites as Baked Chicken Caribe, Cave Creek Carnitas, Bourbon-Glazed Salmon with Sesame Seeds, Roasted Sweet Potatoes with Lime and Cilantro, Naan Bread, Sweet Ricotta Fritters and Fresh Strawberry Pie.
The Graber women spent two weeks this spring touring in support of the book and giving interviews to television program hosts and newspaper reporters. The book has attracted favorable attention. Dana Cowin, editor in chief of Food & Wine Magazine told her Twitter followers on April 9 to check out the book, which she described as "accessible." Stories appeared in the Mennonite World Review, The Elkhart Truth and The Goshen News. The women also participated in numerous book signings.
— By Richard R. Aguirre, in the Summer 2012 Bulletin