Professor of Social Work Bob Birkey retires after 37 years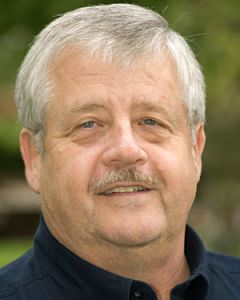 GOSHEN, Ind. — After 37 years of service, Goshen College Professor of Social Work and long-time Program Director Bob Birkey is retiring. He has been teaching at GC since 1975, making him the longest-serving current faculty member.
In addition to serving as program director for the past 18 years, Birkey has accomplished much during his years at GC. He led students on a Study-Service Term to Belize, completed his Ph.D. at the University of Notre Dame, achieved accreditation and multiple re-accreditations of the Social Work Program and completed six months of sabbatical research in Greece.
While retirement is a prospect that Birkey looks forward to, he said he will miss the students, faculty and staff with whom he has worked. Over the years, he has witnessed considerable changes in student demographics, curriculum and technology, but he said that the students have remained of high caliber. There is one aspect of the current group of students that Birkey finds considerably notable.
"I believe this generation of GC students is increasingly accepting — not just tolerant, but truly accepting — of diversity and committed to inclusion of marginalized persons," said Birkey. "My generation still has much to learn from them."
As he retires, Birkey says goodbye to a college that looks very different than it did 37 years ago. When he began teaching, there were no personal computers, cell phones or fax machines. Birkey said, "I remember a committee meeting in which the need for computers was being discussed and I made the comment that I could not imagine ever needing to have one in my office. And of course we had no idea the iPad was coming down the pike." This fall, the college will provide all new first-year students with an iPad mobile computing device to use as part of the college's new general education curriculum.
Professor of Social Work Jeanne Liechty will take on Birkey's role of program director in addition to her current position. Liechty is a former student of Birkey and believes his contributions to the social work program made it one she wanted to teach in. "He has a wonderful sense of humor, keeps a keen eye on current events and politics, and analyzes them succinctly and boldly," said Liechty. "He's a big part of why I enjoy coming to work."
For Birkey, retirement means having a chance to pursue projects and interests that he has been unable to focus on while maintaining a full-time director position. These include traveling, spending time with his guitar, working on family and ancestral research and looking into projects that have been on hold for a number of years. Birkey also notes that he will continue to serve periodically as an adjunct professor, and plans to maintain his deep interest in social policy.
–By Maddie Ruth, from the Goshen College Record
Editors: For more information about this release, to arrange an interview or request a photo, contact Goshen College Assistant Director of Public Relations Jodi H. Beyeler at (574) 535-7572 or jodihb@goshen.edu.
###
Goshen College, established in 1894, is a residential Christian liberal arts college rooted in the Anabaptist-Mennonite tradition. The college's Christ-centered core values — passionate learning, global citizenship, compassionate peacemaking and servant-leadership — prepare students as leaders for the church and world. Recognized for its unique Study-Service Term program, Goshen has earned citations of excellence in Barron's Best Buys in Education, "Colleges of Distinction," "Making a Difference College Guide" and U.S. News & World Report's "America's Best Colleges" edition, which named Goshen a "least debt college." Visit www.goshen.edu.