Merry Lea's Turtle Trot 5-K offers scenic trails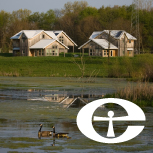 WOLF LAKE, Ind. – Runners who appreciate grass trails instead of asphalt will enjoy the annual Turtle Trot 5-K run, Saturday, May 12, 8:30 a.m. at Merry Lea Environmental Learning Center of Goshen College, midway between Goshen and Fort Wayne.
Runners make their way between patches of woodland, wetland and prairie during the race. The course provides a fine sampling of the ecological diversity that Merry Lea's 1,189 acres are known for.
Small prizes are awarded for the best male and female times and the fastest runner under 14. A prize is also awarded for the most unusual nature sighting while running. Runners should arrive by 8 a.m. and be prepared for mud, depending on the weather. Light snacks and drinks are provided after the run.
The registration fee is $15. Runners may register online at http://merrylea.goshen.edu/. Please register by Friday, May 4 if you want a T-shirt. Questions? Call 260-799-5869.
The Turtle Trot is part of Merry Lea's NatureFest, a family-friendly outdoor experience featuring hikes, nature activities, food and music following the run. Turtle Trot runners can buy lunch for an additional $5. See http://merrylea.goshen.edu/news-events/events/naturefest for a NatureFest schedule and other details.
Editors: For more information about this release or to arrange an interview, contact Jennifer Schrock at (260) 799-5869 or jenniferhs@goshen.edu.
###
Merry Lea was created with the assistance of the Nature Conservancy and the generosity of Lee A. and Mary Jane Rieth. The 1,189-acre nature preserve is located in central Noble County, midway between Fort Wayne and Goshen, south of Wolf Lake.
Goshen College, established in 1894, is a residential Christian liberal arts college rooted in the Anabaptist-Mennonite tradition. The college's Christ-centered core values – passionate learning, global citizenship, compassionate peacemaking and servant-leadership – prepare students as leaders for the church and world. Recognized for its unique Study-Service Term program, Goshen has earned citations of excellence in Barron's Best Buys in Education, "Colleges of Distinction," "Making a Difference College Guide" and U.S. News & World Report's "America's Best Colleges" edition, which named Goshen a "least debt college." Visit www.goshen.edu.