Goshen College faculty recital to feature cellist Dato Machavariani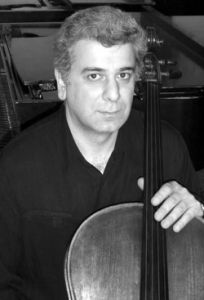 GOSHEN, Ind. – Goshen College adjunct professor of cello Dato Machavariani will perform a recital of chamber music on Wednesday, April 4 at 7:30 p.m. in Goshen College Music Center's Rieth Recital Hall.
Machavariani will be joined by his wife, pianist Ketevan Badridze, and violinist Christopher Nemeth in performances of César Franck's "Sonata for Cello and Piano in A Major" and Antonín Dvorák's "'Dumky' Trio for Violin, Piano and Cello in E minor, Op. 90.
Tickets are $7 adults, $5 seniors/students. General admission tickets are available at the door one hour before the recital.
Machavariani teaches cello at Goshen College and at Indiana University-South Bend (IUSB). He was born in Tbilisi, Republic of Georgia. His official musical training started at the age of 8 in a special music school for gifted children. He debuted at the age of 14 with the Georgian National Symphony, performing Haydn's "Concerto in C major." He continued his studies at the Tbilisi State Conservatory, and earned a master's degree with highest distinction. After graduation, Machavariani joined the cello faculty at Surami (Georgia) from 1985 to 1988 and began work on a post-graduate diploma at the Tbilisi State Conservatory, earning his degree with highest distinction in 1989. He was invited to become part of the faculty at a music school for gifted children, giving cello instruction. From 1990 to 1992, Machavariani was a member of the cello faculty at Tbilisi State Conservatory.
Event Info
Faculty Recital Series: Dato Machavariani, cello, and friends
Date and time: Wednesday, April 4, 2012 at 7:30 p.m.
Location: Goshen College Music Center's Rieth Recital Hall
Cost: Tickets cost $7 for adults, $5 for seniors/students, available at the door one hour before the concert
---
In 1992, by invitation of IUSB, Machavariani came to the United States and earned a master's degree and artist diploma. He has soloed many times with the Georgian National Symphony, Georgian Radio and TV Orchestra, IUSB Philharmonic, Elkhart Symphony Orchestra and successfully has toured in Georgia, Russia and Ukraine. He was a member of the Georgian Chamber Orchestra and has served as principal cello in the Elkhart Symphony Orchestra and Pro Musica Chamber Orchestra in St. Joseph, Mich. He is an assistant principal in the South Bend Symphony Orchestra and Columbia (Mo.) Festival Chamber Orchestra.
Badridze, born in Tbilisi, Georgia, began piano studies at the Georgian Special Music School. She continued at the Tbilisi State Conservatory and in 1993 earned a postgraduate degree. Upon completion of her degree, she was appointed to the piano faculty. Badridze has been a major prize winner of numerous international piano competitions including the Newport International Piano Competition (England), Georgian Republic Competition, the Tbilisi International Piano Competition, the World Piano Competition and, most recently, at the New Orleans International Piano Competition. Her recordings can be found on Excelsior and Mazur Media CD labels nationwide. She is a frequent performer of solo and chamber music in Georgia, France, Belgium, Austria, Italy and Germany. She joined the Alexander Toradze Piano Studio in March, 2000.
Editors: For more information about this release, to arrange an interview or request a photo, contact Goshen College Acting News Bureau Coordinator Alysha Bergey Landis at (574) 535-7762 or alyshabl@goshen.edu.
###
Goshen College, established in 1894, is a residential Christian liberal arts college rooted in the Anabaptist-Mennonite tradition. The college's Christ-centered core values – passionate learning, global citizenship, compassionate peacemaking and servant-leadership – prepare students as leaders for the church and world. Recognized for its unique Study-Service Term program, Goshen has earned citations of excellence in Barron's Best Buys in Education, "Colleges of Distinction," "Making a Difference College Guide" and U.S.News & World Report's "America's Best Colleges" edition, which named Goshen a "least debt college." Visit www.goshen.edu.