Goshen College puts 1960s twist on Shakespeare's 'Twelfth Night' for spring mainstage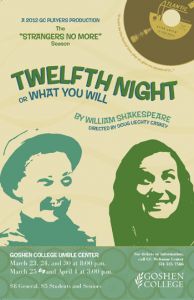 GOSHEN, Ind. – Shakespeare plays often conjure up images of men in tights and women in corseted dresses, but this production of Shakespeare's "Twelfth Night; or, What You Will," put on by the Goshen College Players for the 2012 spring mainstage production, is more likely to remind you of AMC's hit TV show "Mad Men." The production is set in the American 1960s and includes music inspired by pop/folk singers of the day, like a youthful Bob Dylan, The Young Rascals, Ray Charles and Peter, Paul and Mary.
"Twelfth Night," directed by Professor of Theater Doug Liechty Caskey, will show at Goshen College's Umble Center on March 23, 24, 30 at 8 p.m. and March 25 (ASL interpreted), April 1 at 3 p.m.
While this production may look different than a typical Shakespeare play, it still features jealousy, mistaken identity, cross-dressing, duels and speaks of the madness of love – all classic Shakespeare. When some shipwrecked strangers get washed ashore in the world of Illyria (an imaginary seaside American city), a playful entanglement of music, love, mistaken identity and trickery ensues.
"Our setting of the play in the 1960s provides the changing cultural landscape necessary to shed light on gender dynamics that are prevalent in the play," said Patrick Ressler, sound designer/music director and 2011 graduate. "Twelfth Night" features several powerful female roles. "Each woman in the play has considerable sway over her male counterpart," said Ressler.
The production will include music, starting with songs from 1963 and moving chronologically throughout the play to music from 1966. "Live music is an important element in a show with the opening line 'If music be the food of love, play on…'" said Ressler.
Projected images referencing the 1960s will also be incorporated into the show. "The period is driven by trends of style and is rich with visual interest," said Ressler. "As soon as you walk into the space, you will see projected images from the 1960s, inviting you travel back to this volatile era."
"Twelfth Night" will feature the following performers: first-year Benjie Aguilera Brown (Asuncion, Paraguay) as Sebastian; senior Emily Bowman (Millersburg, Ind.) as Viola;junior Lewis Caskey (Goshen) as Sir Andrew; first-year Rhianna Cockrell (Rileyville, Va.) as Valentine; first-year Brett Conrad (Lakewood, Colo.) as Antonio; sophomore Liz Core (Pella, Iowa) as Olivia; first-year Melanie Hertzler (Goshen) as a servant;first-year Karsten Hess (Goshen) as a sea captain and a priest; sophomore Joel Kawira (Shirati, Tanzania) as Sir Toby Belch; senior Jay Mast (Goshen) as Orsino;junior Maryn Munley (Mundelein, Ill.) as Maria; first-year Angel Reyes (Leesburg, Ind.) as Curio; junior Samuel Rosario (Toa Baja, Puerto Rico) as Fabian; first-year Alan Smith (Lodi, N.Y.) as first officer; first-year Cody Steele (Albion, Ind.) as second officer; sophomore Lauren Treiber (Grand Rapids, Mich.) as Feste the Fool; and junior Justin Yoder (Perkasie, Pa.) as Malvolio.
Professor of Theater Doug Liechty Caskey is the director, Assistant Professor of Theater Tamera Izlar is the producer, Assistant Professor of Theater Andrew Moeggenborg is the technical director and set designer, and Sandy Slabaugh is the production assistant. The production team also includes the following students: junior Cheyenne Barba (Goshen), ASL interpreter; senior Alisha Bender (Pittsburgh, Pa.), house manager; junior Emma Brooks (Littleton, Colo.), poster and program design; first-year Brandi Brubaker (Telford, Pa.), house manager; senior Kelly Frey (Shipshewana, Ind.), dance coach; 2011 graduate Joshua Hofer, light designer; senior Aaron Kaufmann (Tiskilwa, Ill.), master electrician; senior Lauren King (Goshen), dramaturgy; sophomore Sarah Lake-Rayburn (Champaign, Ill.), hair and make-up and costume crew; senior Matt Lehman (Kidron, Ohio), costume shop manager; sophomore Robert Lerch (Spring Valley, N.Y.), sound board operator; junior Clare Maxwell (Winchester, Mass.), hair and make-up designer; sophomore Shane Miller (Goshen), projectionist; junior Maryn Munley (Mundelein, Ill.), assistant stage manager; 2011 graduate Patrick Ressler, sound designer/music director; first-year Alan Smith (Lodi, N.Y.), assistant stage manager; junior Carrie Smucker (Bird In Hand, Pa.), ASL interpreter ; sophomore Jessica Sprunger (Goshen), costume designer; first-year Cody Steele (Albion, Ind.), assistant stage manager; sophomore Gwen Stephan (Goshen), light board operator; sophomore Angie Troyer (Elkhart, Ind.), stage manager; senior Phil Weaver-Stoesz (Goshen), master carpenter and set construction and sophomore Natasha Weisenbeck (Clifton, Ill.), props manager.
The approximate run-time for the show is two-and-a-half hours, including a 10-minute intermission. Umble Center is accessible to wheelchairs and people with other physical limitations. American Sign Language interpretation will be offered during the March 25 performance of the play.
Tickets cost $8 for general admission and $5 for students and seniors, and can be purchased in advance through the Welcome Center by calling (574) 535-7566, emailing welcomecenter@goshen.edu or online atwww.goshen.edu/tickets. Tickets can also be purchased at the Umble Center Box Office one hour before the show.
–By Alysha Landis
Editors: For more information about this release, to arrange an interview or request a photo, contact Goshen College Acting News Bureau Coordinator Alysha Bergey Landis at (574) 535-7762 or alyshabl@goshen.edu.
###
Goshen College, established in 1894, is a residential Christian liberal arts college rooted in the Anabaptist-Mennonite tradition. The college's Christ-centered core values – passionate learning, global citizenship, compassionate peacemaking and servant-leadership – prepare students as leaders for the church and world. Recognized for its unique Study-Service Term program, Goshen has earned citations of excellence in Barron's Best Buys in Education, "Colleges of Distinction," "Making a Difference College Guide" and U.S.News & World Report's "America's Best Colleges" edition, which named Goshen a "least debt college." Visit www.goshen.edu.