Faculty flute and piano recital 'From Russia With Love' on March 11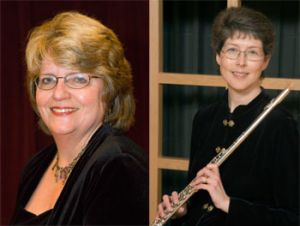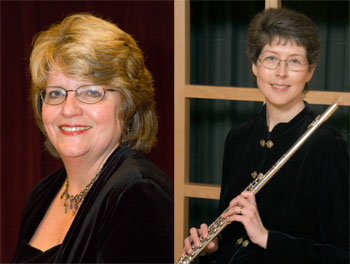 GOSHEN, Ind. – Goshen College flute instructor Rebecca Hovan will present a recital of music for flute and piano with pianist Christine Larson Seitz on Sunday, March 11, at 4 p.m. in Goshen College Music Center's Rieth Recital Hall. Tickets cost $7 for adults and $5 for seniors/students, available at the door one hour before the concert.
The recital, titled "From Russia With Love," will feature pieces by Russian and Azerbaijani composers, including "Sonata in D Major, Op. 94 for Flute and Piano," by Sergei Prokofiev. Other more programmatic pieces, distinctly in the nationalistic tradition of the late 19th century in comparison to Prokofiev's more western-oriented style, will include "In the Early Morning," by Alexander Gretchaninoff (originally for cello and piano); "Five Pieces," for flute, violin and piano by César Cui, featuring violinist Jessica Bennett and "Six Pieces" for flute and piano by Fikret Amirov.
Hovan is currently principal flute with the Elkhart County Symphony and performs regularly with other chamber groups in the Northern Indiana area. She is currently on the faculty at Indiana University South Bend and Goshen College. She is also an artist/clinician for Emerson Flutes. Her training includes a master's degree in music from the University of North Texas, where she was a teaching fellow in flute. She was a winner of the National Flute Association's master class competition and has performed at the association's national convention several times.
Hovan has also presented various pedagogy workshops for the National Flute Association, at colleges and universities, and at various flute festivals. Her first book, an intermediate method for flute, was published in December 2003. She has served on the Pedagogy Committee of the National Flute Association since December 2002 and was recently appointed chair of the committee.
Previously on the faculty at IUSB and Bethel College, Mishawaka, Seitz has been a sought-after recital accompanist in Michiana for over 35 years, and is staff accompanist for the Goshen College Music Department. She has studied with Robert Hamilton and John Owings. Since 1978, Seitz has been the accompanist and assistant director for the St. Joseph Valley Camerata. She has been the organist at First United Methodist Church in Mishawaka since 1987.
Editors: For more information about this release, to arrange an interview or request a photo, contact Goshen College Acting News Bureau Coordinator Alysha Bergey Landis at (574) 535-7762 or alyshabl@goshen.edu.
###
Goshen College, established in 1894, is a residential Christian liberal arts college rooted in the Anabaptist-Mennonite tradition. The college's Christ-centered core values – passionate learning, global citizenship, compassionate peacemaking and servant-leadership – prepare students as leaders for the church and world. Recognized for its unique Study-Service Term program, Goshen has earned citations of excellence in Barron's Best Buys in Education, "Colleges of Distinction," "Making a Difference College Guide" and U.S.News & World Report's "America's Best Colleges" edition, which named Goshen a "least debt college." Visit www.goshen.edu.