Professor of Music Matthew Hill marks CD release 'Silent Colors' with piano recital on Feb. 17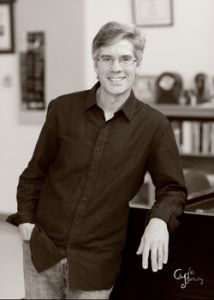 GOSHEN, Ind. – Dr. Matthew Hill, professor of music and chair of the Music Department, will present a special solo piano recital to mark the release of his new CD "Silent Colors," on Friday, Feb. 17 at 7:30 p.m. in Goshen College Music Center's Rieth Recital Hall. The program will include music by Debussy, Messiaen, Scriabin and Liszt. Tickets cost $7 for adults, $5 for students/seniors, are free for GC students and faculty/staff and are available at the door an hour before the concert.
Hill recorded "Silent Colors" while on sabbatical in the spring of 2011. Both "Silent Colors," which is on the Blue Griffin label, and the recital explore sound as it relates to color, the interrelationship of music and silence, and religious symbolism.
Hill received a doctorate in piano performance from the University of Wisconsin-Madison under the tutelage of Howard Karp and has also studied with the renowned Beethoven interpreter Claude Frank. He received a master's of music degree in piano performance from the University of Kansas as a student of Dr. Richard Angeletti, and graduated from Southwest Missouri State University with a bachelor's in music where he studied with Dr. Garik Pedersen.
Hill presented a series of master classes and a recital performance at the Sichuan Conservatory of Music in Chengdu, China, as well as guest lectures at the Southwest University of Science and Technology in Mianyang. He contributed a chapter to "Silence, Music, Silent Music" (Ashgate, 2007) and has written for Clavier. Hill is an active recitalist, chamber musician and concerto performer, and presents master classes and lectures at the Goshen College Piano Workshop, as well as for music teacher organizations.
Hill has performed Samuel Barber's "Piano Concerto" with the University of Wisconsin-Madison Symphony and has also performed with the Central Wisconsin Symphony, Wisconsin Chamber Orchestra. He has performed on Wisconsin Public Radio's "Live from the Elvehjem" and has also performed at the White House in Washington, D.C., as accompanist for the Wausau Conservatory Choraliers Children's Choir.
Editors: For more information about this release, to arrange an interview or request a photo, contact Goshen College Acting News Bureau Coordinator Alysha Bergey Landis at (574) 535-7762 or alyshabl@goshen.edu.
###
Goshen College, established in 1894, is a residential Christian liberal arts college rooted in the Anabaptist-Mennonite tradition. The college's Christ-centered core values – passionate learning, global citizenship, compassionate peacemaking and servant-leadership – prepare students as leaders for the church and world. Recognized for its unique Study-Service Term program, Goshen has earned citations of excellence in Barron's Best Buys in Education, "Colleges of Distinction," "Making a Difference College Guide" and U.S.News & World Report's "America's Best Colleges" edition, which named Goshen a "least debt college." Visit www.goshen.edu.