The Manhattan Transfer to kick off Goshen College's 2011-12 Performing Arts Series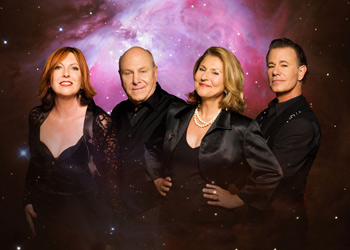 GOSHEN, Ind. – The Manhattan Transfer, a U.S. vocal quartet, will kick off Goshen College's 2011-12 Performing Arts Series with their harmonies on Saturday, Sept. 10 at 7:30 p.m. in the Music Center's Sauder Concert Hall.
Though regular seating for the concert is sold out, tickets are available for choral terrace seats (located above and behind the stage) at $20, and can be purchased at the Goshen College Welcome Center. Call (574) 535-7566 or email welcomecenter@goshen.edu for more information. Tickets can also be purchased online at www.goshen.edu/tickets.
The Manhattan Transfer has been pleasing crowds with their four-part vocal performances for more than 30 years. The group, named for John Dos Passos' 1925 novel, "Manhattan Transfer" and a reference to their New York roots, has come from humble beginnings, going from playing in New York City clubs to winning 10 Grammy Awards. After going through several personnel changes, the current Manhattan Transfer group, consisting of Tim Hauser (bass), Alan Paul (tenor), Janis Siegel (alto) and Cheryl Bentyne (soprano), was established in 1978. The next year, the group released their first of 24 albums, "Extensions."
In 1981 they became the first group to ever win Grammy Awards in both Pop and Jazz categories in the same year. Their song "Boy from New York City" (a cover of the 1965 success by The Ad Libs) reached Top 10 on the Billboard 200 and won them the award for Best Pop Performance by a Duo or Group with Vocal. Also from the same album, "Mecca for Moderns," the track "Until I Met You (Corner Pocket)," earned them a Grammy for Best Jazz Performance, Duo or Group.
In 1982, the group won another Grammy for Best Jazz Vocal Performance by a Duo or Group for its rendition of "Route 66." The next year, The Manhattan Transfer released the album "Bodies and Souls," shifting to an urban-contemporary style and resulting in two R&B chart singles. In 1985 they received 12 Grammy nominations for their album Vocalese, at the time making it second only to Michael Jackson's "Thriller" as the most nominated single album ever.
For their next album, 1987's "Brazil," the group headed south to work with Brazilian songwriters. The album won a Grammy for Best Pop Performance by a Duo or Group with Vocal. It wasn't until 1991 that The Manhattan Transfer released their next album, "The Offbeat of Avenues," which brought them their 10th Grammy award for the song, "Sassy."
In 1998, the group was inducted into the Vocal Group Hall of Fame. Their latest album, "The Chick Corea Songbook," a tribute to the works of American jazz musician Chick Corea, was released in September 2009.
The Goshen College Performing Arts Series debuted on Sept. 21, 1997. Since then, the college has hosted more than 100 concerts by some of the world's greatest performers as part of the program.
Seating for those with disabilities is available and the minimum age of attendees is 5 years old. Tickets are nonrefundable.
– By Alysha Landis
Editors: For more information about this release, to arrange an interview or request a photo, contact Goshen College News Bureau Director Jodi H. Beyeler at (574) 535-7572 or jodihb@goshen.edu.
###
Goshen College, established in 1894, is a residential Christian liberal arts college rooted in the Anabaptist-Mennonite tradition. The college's Christ-centered core values – passionate learning, global citizenship, compassionate peacemaking and servant-leadership – prepare students as leaders for the church and world. Recognized for its unique Study-Service Term program, Goshen has earned citations of excellence in Barron's Best Buys in Education, " Colleges of Distinction," "Making a Difference College Guide" and U.S.News & World Report's "America's Best Colleges" edition, which named Goshen a "least debt college." Visit www.goshen.edu.