Actor, playwright and professor Anna Deavere Smith to present keynote address Sept. 13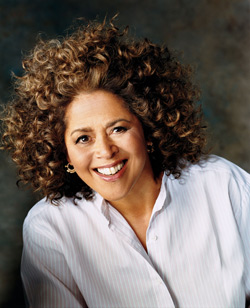 GOSHEN, Ind. – Award-winning actor and playwright Anna Deavere Smith will present the keynote address,"Glimpses of America in Change," at Goshen College for the Roy H. Umble Master Class and Yoder Public Affairs Lecture, which are combined into one event this year. The address will take place on Tuesday, Sept. 13 in the Music Center's Sauder Concert Hall at 7:30 p.m. The event is free and open to the public.Smith, who has been hailed by Newsweek as "the most exciting individual in American theater," uses her brand of theater to explore issues of community, character and diversity in America. "Glimpses of America in Change" will incorporate the perspectives and voices of various individuals that Smith has interviewed, and she will perform them as personal narratives throughout her address. In doing so, Smith will address the issues that arise when people of different races, ethnicities, socio-economic statuses and religious beliefs live and work in close proximity to each other.
Smith is best known for her documentary theater style, which combines the journalistic technique of interviewing her subjects with the art of interpreting their words through performance. This technique is prevalent in her plays "Fires in the Mirror," about the 1991 Crown Heights Riot in New York City, and "Twilight: Los Angeles," about the 1992 Los Angeles riots. Both plays featured Smith as the sole performer of multiple and diverse characters, and won her the Drama Desk Award for Outstanding One-Person Show two years in a row.
As an actress, Smith was nominated for the Pulitzer Prize for Drama in 1993 for her play "Fires in the Mirror." In 1994, she was nominated for two Tony awards for her play "Twilight: Los Angeles," one for best actress and another for best play. The play also won her a Theatre World Award.
Smith has appeared in several films, including "Philadelphia," "The American President" and "Rent." She had recurring roles on "The West Wing," "The Practice" and "All My Children."
Smith received her master's degree in acting from the American Conservatory Theater in San Francisco, Calif. Since July 2009, she has been the artist in residence with the Center for American Progress in Washington, D.C., and is developing a new show called "The Americans," which documents change in Washington. She is a professor in the Department of Performance Studies at the Tisch School of the Arts at New York University and also teaches at NYU School of Law.
Smith was one of the 1996 recipients of the MacArthur Fellowship, and in 2006 she won a Fletcher Foundation Fellowship for her contribution to civil rights issues. In 2009 she won a Fellow Award in Theater Arts from United States Artists. She is the founding director of Anna Deavere Smith Works, a nonprofit organization that gathers artists whose work addresses the world's most pressing problems. Smith holds honorary degrees from various universities, including Juilliard and Northwestern.
The Roy H. Umble Master Class brings nationally known practitioners and experts in communication and theater to the Goshen College campus annually for events and activities that enrich and inspire students, faculty, the broader campus and local and church communities. Roy H. Umble (1913-1996) dedicated his life as a faculty member to Goshen College and its heritage. He had a deep commitment to the Mennonite Church and expressed his faith to many generations of Goshen College students through his involvement in speech and theater. The Master Class was established with gifts from Goshen College alumni who had benefited from Roy's teaching and inspiration. An initial gift from Janette Brunk in 1994 served as a tribute both to Roy and her parents, Perry and Fern Brunk, who developed an appreciation for theater because of their daughter's involvement in it. In 1996, alumnus David E. Yoder, one of Roy's many former students and admirers, initiated a fund-raising effort to build an endowment to support a master class.
The Frank and Betty Jo Yoder Public Affairs Lecture Series is an endowed lectureship that was created for Goshen College in 1978 by Frank (1917-1996) and Betty Jo Yoder of Goshen. The goal of the series is to enable faculty, students and community to hear well-known speakers address current issues. Each year, experts from a wide variety of fields and vocations visit campus. Past speakers have included Frances Moore Lappe, Ralph Nader, Juan Williams, C. Everett Koop, Elizabeth Arnold, Peggy Wehmeyer, Ray Suarez, Mark Hatfield and Dorothy F. Cotton.
– By Alysha Landis
Editors: For more information about this release, to arrange an interview or request a photo, contact Goshen College News Bureau Director Jodi H. Beyeler at (574) 535-7572 or jodihb@goshen.edu.
###
Goshen College, established in 1894, is a residential Christian liberal arts college rooted in the Anabaptist-Mennonite tradition. The college's Christ-centered core values – passionate learning, global citizenship, compassionate peacemaking and servant-leadership – prepare students as leaders for the church and world. Recognized for its unique Study-Service Term program, Goshen has earned citations of excellence in Barron's Best Buys in Education, "Colleges of Distinction," "Making a Difference College Guide" and U.S. News & World Report's "America's Best Colleges" edition, which named Goshen a "least debt college." Visit www.goshen.edu.