Human rights activist Marjory Byler to speak at Goshen College's 113th commencement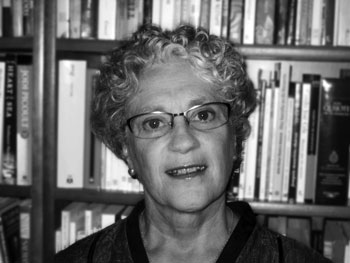 GOSHEN, Ind. – Marjory Byler, a human rights activist and organizational consultant, will present a commencement address, titled "There is a crack in everything," at the 113thGoshen College commencement on Sunday, May 1 at 3 p.m. in the Roman Gingerich Recreation-Fitness Center.This year there are 248 undergraduates and 11 master's degree candidates scheduled to receive diplomas.
A 1969 Goshen College alumna, Byler has worked with Amnesty International for more than 30 years and has overseen a wide range of programs, both in the United States and internationally. She began in 1980 as a volunteer and worked her way to the position of Senior Director for International Mobilization at the International Secretariat in London from 2002 to 2010. Internationally, Byler has developed standard-setting programs of support for the more than 70 Amnesty International entities around the world, addressing the challenges nongovernmental organizations face in different cultures and historical contexts. Her focus has always been to make human rights relevant to and inclusive of a diversity of people.
Born and raised in Argentina, Byler came to the United States for college. After graduating from Goshen College in 1969, she and her husband, David Rutschman, moved to Montevideo, Uruguay, where they lived from 1970 to 1974 as activists in the opposition to the military dictatorship in that country. They moved to Argentina in 1975 as part of a wave of Uruguayan exiles.
After four years, the couple left Argentina with their young sons during the height of the "Dirty War," and moved to Albuquerque, N.M. There, Byler received her master's degree in adult teacher education from the University of New Mexico. She taught English as a second language and developed and managed bilingual programs in the Albuquerque Public Schools until she began her professional career with Amnesty International in 1988.
Schedule of Commencement weekend activities:
Saturday, April 30
1:30 p.m.—Nurses' Pinning Ceremony, Church-Chapel
2-5 p.m.—Department receptions – graduates and families meet informally with professors (exact times and locations to be announced by departments)
7:30 p.m.—Senior Class Program, Sauder Concert Hall
8:45-10:30 p.m.—President's Reception for graduates and families, Music Center lobby
Sunday, May 1
11 a.m.—Baccalaureate service, Church-Chapel
3 p.m.—113th Annual Commencement ceremony, Roman Gingerich Recreation-Fitness Center (no tickets needed) 
– By Alysha Landis
Editors: For more information about this release, to arrange an interview or request a photo, contact Goshen College News Bureau Director Jodi H. Beyeler at (574) 535-7572 or jodihb@goshen.edu.
### 
Goshen College, established in 1894, is a residential Christian liberal arts college rooted in the Anabaptist-Mennonite tradition. The college's Christ-centered core values – passionate learning, global citizenship, compassionate peacemaking and servant-leadership – prepare students as leaders for the church and world. Recognized for its unique Study-Service Term program, Goshen has earned citations of excellence in Barron's Best Buys in Education, "Colleges of Distinction," "Making a Difference College Guide" and U.S. News & World Report's "America's Best Colleges" edition, which named Goshen a "least debt college." Visit www.goshen.edu.