Culture for Service thrives in Elisabeth Fast Beels '75 and Rebecca Dyck '75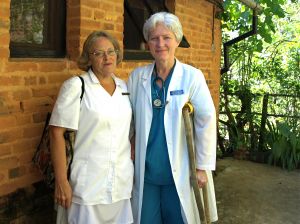 Culture for Service burns brightest for some Goshen College alumni just after graduation. For Elisabeth Fast Beels '75 and Rebecca Dyck '75, however, Goshen's motto continues to guide their lives of helping others.
In 1972, as GC students, they had different Study-Service Term assignments – Dyck in Costa Rica and Beels in Jamaica. Afterward, they became close friends, were roommates in Kratz (414), and studied together in the nursing program. After graduation, they both worked at Elkhart General Hospital.
By the end of 1976, they felt called to serve with Mennonite Central Committee. They both were in the January 1977 orientation in Akron, Pa., after which their lives took different yet parallel directions: Dyck taught nursing at the Roma School of Nursing in Roma, Lesotho, and Beth taught nursing in the Lalitpur Nursing Campus in Kathmandu, Nepal. Both stayed in their MCC jobs for about four years, and then returned to the United States.
"The next 30 years were filled with marriage, children, more schooling, careers, etc. And before long, we had empty nests and it was time to put that 'Culture for Service' into action again," Beels wrote in an email to the college. Beels and her husband, Theo, a physician, left Grand Rapids, Mich., last year for a three-year term in Nepal. She is teaching again, but this time in Tansen, a rural village in the hills. She also knits baby headbands to hold oxygen tubes in place and gives flute lessons. Theo works in the hospital.
Later in 2010, Beels persuaded Dyck to take time off from teaching at Dawson College in Montreal, to come to Nepal. And so Dyck spent several months doing clinical supervision of students in the hospital, holding workshops for students and teaching faculty at the nursing school in Tansen. Her husband, Peter, did ESL training for teachers at a primary school, while Theo worked in the hospital.
"One result of this stint together has been the resolution to entice GC to establish an SST unit in Tansen," Beels wrote. "There are so many needs which students could address, that we are brimming with placement ideas. In the meantime, we send our greetings and lasting gratitude to our peers and mentors at Goshen!"
– By Richard R. Aguirre