Texas ceramist Juan Granados offers 2011 Eric Yake Kenagy Visiting Artist lecture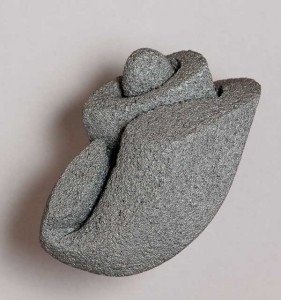 GOSHEN, Ind. – Texas ceramist Juan Granados will be offering Goshen College's 2011 Eric Yake Kenagy Visiting Artist lecture, followed by a reception, on Sunday, Feb. 20 from 7:30 to 8:30 p.m. in the Music Center's Rieth Recital Hall.
A ceramics exhibit featuring Granados' work is on display in the college's Hershberger Art Gallery from Jan.0 16 to March 18. The lecture and reception are free and open to the public.
Granados received a master of fine arts degree from Ohio State University in Columbus, Ohio, in 1991. From 1991 until 1994, he taught at Eastern Washington University, and currently is an associate professor of art at Texas Tech University in Lubbock, Texas, where he began in 1995. He has various exhibits throughout the United States, as well as several internationally, including in South Korea, Switzerland and Hong Kong.
Throughout his childhood, Granados traveled with his family as migrant farm workers throughout the southern United States. As he cultivated the earth, he observed the interdependence and importance of nature. Granados is connected to his background of working with land through his use of clay as his artistic medium, and aims to create work that is organic. Through his ceramics, he tries to express his past and share the message of human sustainability.
"As I have developed as an artist, I have grown to accept my past and to rely on memories to help me in the present," said Granados. "I cannot deny, ignore or forget who I am or where I have come from. My work is a mirror of a past that I constantly reconstruct for visions of the future."
The Hershberger Art Gallery, located in the Goshen College Music Center, is open from 9 a.m. to 4:30 p.m. Monday through Friday, and from 2 to 4 p.m. Saturday and Sunday. The building is accessible to people using wheelchairs and others with physical limitations.