Lasting Ties: Planting a Heritage For Future Generations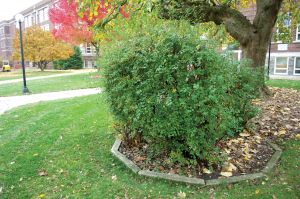 From the day in June 1903 that Jesse Smucker's team drove away with a load of soil excavated from a field that was to become the Goshen College campus, the college land has been dug, poked and shaped by many hands for many purposes. Utilitarian holes dug for this foundation, or that fountain, grading done for a tennis court here, a soccer field there, produced results expected to last.
But even the planting of a flowerbed can leave its mark for a century. Sometime in the early spring of 1909, Business Manager J.S. Hartzler took a moment from a morning chapel service to suggest that students take on the work (and cost!) of planting six flower beds recently laid out on campus.
"Nobly showing their loyalty to their institution" (as the Record reported) students "at once" got to work to help beautify the young campus.
Today, a ring of rectangular cement blocks surrounding a bush in front of Kulp Hall bears testimony to the landscaping labors of 10 of those students.
What we do know is that two female and eight male students, ranging in age from 18-year-old Leland B. Greenwalt to 39-year-old Benjamin J. King (soon to leave campus to start a store in Kansas), chose to record their names on the blocks used to edge a flower bed. One of the 10, Adda L. Miller (later Weber) died a scant decade later. Another, Jacob B. Weiler, died in 1978, almost 70 years after the stone block was in place and long enough to see grandsons Neil ('67) and Sid ('70) Stoltzfus graduate from GC.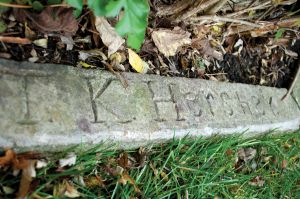 Did they – coming from the Academy (high school), Normal (teacher education), Bible, Music, & Oratory Schools – all work together? Did some later landscaper rescue and place together blocks from several of the original six beds? We do not know.
The other six whose names remain are: Tobias K. Hershey (early Mennonite missionary to Argentina), Amos Z. Martin, William J. Brenneman, Alma Albrecht (later Smucker), John J. Fisher Sr. (served as GC dean) and Charles L. Shank.
– Joe Springer
Curator, Mennonite Historical Library