Jim Caskey is named vice president for institutional advancement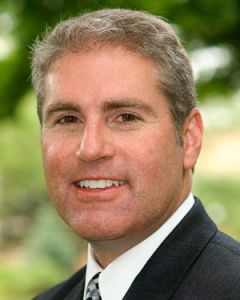 GOSHEN, Ind. – Goshen College President Jim Brenneman named Jim Caskey as the new vice president for institutional advancement, a key position on the President's Council. Caskey started working at Goshen College in 1997 in the Development Office, and most recently served as interim vice president for several months. He will begin in this new role on Jan. 1, 2010.
"I greatly anticipate working alongside Jim Caskey on the President's Council and in his new role as leader of the advancement team. He is the right person for this job at Goshen at this time," said President Brenneman. "Jim has a clear passion for Goshen College that is contagious and brings a wealth of creativity, experience and leadership skills to this position. I look forward to Jim advancing the mission and goals of the college in the coming years."
As the vice president for institutional advancement, Caskey will oversee the Development Office, Alumni, Church and Parent Relations, Public Relations, and the Music Center. He will also serve on the President's Council with the vice president for academic affairs, vice president for student life, vice president for enrollment management, vice president for finance and the special assistant to the president.
"The people who pioneered and extended advancement work at Goshen College over the years have set a high standard," Caskey said. "I am grateful for the path they have laid, humbled to accept this offer and committed to honoring their efforts by moving us forward with God's leading."
Raised in Bluffton, Ohio, Caskey is a 1984 Goshen College graduate with an art major. After college he pursued a career as a designer and then lived with his family in Indianapolis while working as an account executive for Ropkey Graphics, Inc. for 11 years.
In 1997, Caskey returned to Goshen College to serve as the regional director of development, with responsibility for fundraising in the eastern half of the United States. During that period, he helped form the Maple Leafs Athletic Club, assisted with a capital campaign to raise funds for the Music Center and helped form the President's Circle, the group of donors who give $25,000 for unrestricted use to the college annually.
"I felt a strong pull to return to Goshen and it has been deeply satisfying work," Caskey said.
During the 2003-04 academic year, Caskey and his wife, Lisa, led two semesters of the college's Study-Service Term program in the Dominican Republic. When he returned to campus, he began to focus primarily on maintaining strong institutional relationships with the college's top donors. In 2006, Caskey became the director of major gifts, with a significant role in introducing the then-new president and vice president to key donors, doubling the size of the group of largest donors, as well as helping to design a comprehensive campaign. He also played a critical role in planning a 2008 trip to Egypt and Dubai for President Brenneman and lead donors.
"I share President Brenneman's vision for Goshen College and am grateful for an excellent staff and colleagues to help advance it. Our committed constituents are so vital to the success of this school and they have often amazed me. Continuing to develop those vital relationships and engage them with Goshen College will be my highest priorities," Caskey said. "And I look forward to the new ways we will build support for the college, and particularly engage our younger alumni better."
In September 2009, then-Vice President for Institutional Advancement William A. Jones resigned to take the position of Vice President for College Advancement at Virginia Intermont College in Bristol, Va.
Caskey is a member of College Mennonite Church, where he is a sponsor for the youth group. He and Lisa are the parents of Lewis, a first-year student at Goshen College, and Emma, a sophomore at Bethany Christian High School. Caskey can be reached at jimkc@goshen.edu or (574) 535-7558.
Editors: For more information about this release, to arrange an interview or request a photo, contact Goshen College News Bureau Director Jodi H. Beyeler at (574) 535-7572 or jodihb@goshen.edu.
###
Goshen College, established in 1894, is a residential Christian liberal arts college rooted in the Anabaptist-Mennonite tradition. The college's Christ-centered core values – passionate learning, global citizenship, compassionate peacemaking and servant-leadership – prepare students as leaders for the church and world. Recognized for its unique Study-Service Term program, Goshen has earned citations of excellence in Barron's Best Buys in Education, "Colleges of Distinction," "Making a Difference College Guide" and U.S. News & World Report's "America's Best Colleges" edition, which named Goshen a "least debt college." Visit www.goshen.edu.