Goshen College heads to the Middle East with new study abroad location in Egypt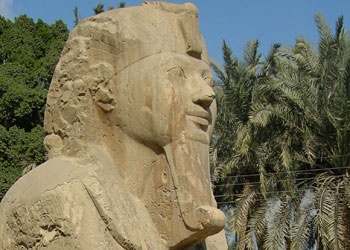 GOSHEN, Ind. – With the current international situation being described as the "clash of civilizations" – the clash between the two largest religious traditions in the world, Islam and Christianity – Goshen College has decided that now is the time to "find its way to the Middle East in a new opportunity for learning through our well-established Study-Service Term program," said President James E. Brenneman. The decision was made public at the April 14 Goshen College Afternoon Sabbatical international luncheon, which featured Egypt.Starting in the fall of 2010, Egypt will be added as a location for Goshen College students to study abroad through the 40-year-old Study-Service Term (SST) program, making it the first time that Arabic is the language studied by students on SST.
Goshen College Director of International Education Tom Meyers agrees with Brenneman. "Goshen College should be in the Middle East. It is a very important part of the world and international politics," he said. "It is at the heart of so many issues."
Adding the Middle East to the list of eight other destinations that Goshen College's SST program goes to coincided with President Brenneman's personal history and his vision for the college. He first traveled to the Middle East as a Goshen College student in 1977, which caused him to change his career focus from biology to the Hebrew Bible. Since then, as an Old Testament scholar, Brenneman has returned on a number of occasions, and he valued the opportunities for working alongside Muslims, Jews and other Christians on interfaith peace and justice work and dialogue as a pastor in Pasadena, Calif., before becoming president of Goshen College in 2006.
"I feel deeply about what Goshen College has to offer and learn from having a presence in the Middle East," Brenneman said, noting that it is the biblical homeland and center of historical significance.
The possibility of a Middle East SST location was encouraged when a business roundtable forum was held at Goshen College in September 2007 about fostering better relationships between the West and the Middle East. It featured a conversation with international businessmen David Martin, 1989 Goshen College alumnus and the founding chief executive officer of M-CAM, Inc. of Charlottesville, Va.; Moustapha Sarhank, an Egyptian scholar in the interdisciplinary field of leadership, psychology and religion and the honorary chairman of Sarhank Group for Investments; and Stephen Schubert, a German banker and financial expert who started the Dubai International Finance Exchange in the United Arab Emirates.That event was followed up – at the invitation of Sarhank – with a trip in February 2008 by President Brenneman, Goshen College board members and supporters to Egypt and Dubai to meet with leaders in education, politics and religion.
A transcontinental country, Egypt is in North Africa and Western Asia. It borders the Mediterranean Sea, the Red Sea, Israel and the Gaza Strip, Libya and Sudan. Almost all of the Egyptian population lives along the banks of the Nile River. Approximately 90 percent of Egyptians are Muslim and most others are Christian, primarily in the Coptic Orthodox denomination.
"Wherever we go, we want SST students to attempt to understand the complexities of the cultures that they live in," Meyers said. "A big part of the cultures of the Middle East is Islam and it is important for our students to talk with Muslims and learn from them. It is a very important world religion."
Because of sensitivities around gender, students will not be able to live with host families during their experience in Egypt. They will be housed in apartments or a retreat center. Meyers is also still choosing a language school for the students to attend during the first half of the semester, which will take place in the capital city of Cairo – a center of learning, culture and commerce – and will be focused on learning the language and about the country's culture and history.
During the second part of the semester, students will have the opportunity to do service in a variety of places in the country.
Students will have the opportunity to visit a number of very important historical sites, as Egypt is famous for its ancient civilization. Other colleges have study abroad programs in Egypt, but few have programs that are a semester in length and that stay in Egypt the entire time.
Meyers said, "We have not been [to the Middle East] in the past because of security issues, as it is a volatile region. In this new location we are going to do what we do everywhere else in the world and that is to make sure that our students are safe and that their needs are met."
Leaders for the first group to Egypt are still being determined.
Since the first SST units went to Costa Rica, Jamaica and Guadeloupe in 1968 and began one of the country's pioneer international education programs, more than 7,000 students and 230 faculty leaders have traveled to 22 countries. The college currently organizes SST units to study and serve in China, Nicaragua, Tanzania, Germany, Senegal, Peru, Jamaica, Cambodia, Northern Indiana (in the Latino community). The program's uncommon semester-long combination of cultural education and service-learning remains a core part of the general education program, and has earned citations for excellence from U.S. News & World Report, Peterson's Study Abroad and Smart Parents Guide to College, the John Templeton Foundation and American Council on Education.
The addition of Egypt as an SST location means that the summer 2009 unit to Germany will be the last for that location.
Editors: For more information about this release, to arrange an interview or request a photo, contact Goshen College News Bureau Director Jodi H. Beyeler at (574) 535-7572 or jodihb@goshen.edu.
###
Goshen College, established in 1894, is a residential Christian liberal arts college rooted in the Anabaptist-Mennonite tradition. The college's Christ-centered core values – passionate learning, global citizenship, compassionate peacemaking and servant-leadership – prepare students as leaders for the church and world. Recognized for its unique Study-Service Term program, Goshen has earned citations of excellence in Barron's Best Buys in Education, "Colleges of Distinction," "Making a Difference College Guide" and U.S. News & World Report's "America's Best Colleges" edition, which named Goshen a "least debt college." Visit www.goshen.edu.