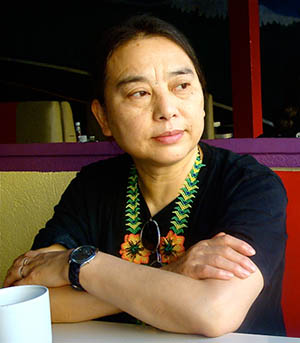 Chinese artist Hung Liu, an internationally known and acclaimed mural painter will exhibit her art as the 2008-09 Eric Yake Kenagy Visiting Artist in the Goshen College Music Center's Hershberger Art Gallery from Jan. 23 to March 3. Liu will present a public lecture on Sunday, Feb. 15 at 7:30 p.m. in Rieth Recital Hall; a reception in the gallery will immediately follow.
Liu's work has been exhibited nationally and internationally in such venues as the Smithsonian Institution, the Tokyo Metropolitan Museum of Photography, the National Museum of American Art and the Walker Center. She resides in Oakland, Calif., and is a professor of visual arts at Mills College.
Liu was born in Changchun, China, in 1948. She grew up in Beijing during the time of Mao Tse-tung, the Cultural Revolution and Tiananmen Square. After graduating from high school in 1968, she was sent to the countryside where she worked with peasants seven days a week in the rice and wheat fields for four years. During this time she photographed and drew portraits of local farmers and their families.
In 1972, Chinese schools began to reopen and Liu entered the Revolutionary Entertainment Department of Beijing's Teachers College to study art and education. She graduated in 1975 and began teaching art at the Jing Shan School, an elite Beijing school. She also began weekly art lessons for children on television. Her program, "How to Draw and Paint," was renowned, and lasted several years. In 1979 she was accepted to China's two leading art schools; she chose the Central Academy of Fine Arts where she majored in mural painting.
In 1981, she was accepted into the visual arts graduate program at the University of California at San Diego. Her passport was delayed, though, until 1984 when she departed Beijing and began her graduate studies. In 1991, she returned to China and discovered a treasure of turn-of-the-century photos of Chinese prostitutes, which became source material for her paintings.
Liu's unusual biography infuses her work with a unique richness; her paintings are steeped in Chinese culture, contemporary and ancient. While she has a foot in both cultures – Chinese and American – her art is born of a traditional Chinese art education. She fuses images from seventh century Tang tomb mural paintings of princes and princesses with Western.
Liu connects her life experiences with her interests in history, gender, identity, Chinese politics and culture to create compositions that pose questions while offering a moment to stop and contemplate.