Goshen College faculty trained to deliver presentation on climate change and faith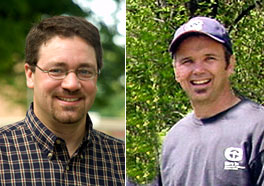 GOSHEN, Ind. – Bob Yoder, Goshen College campus pastor, and Paul Steury, education coordinator at Merry Lea Environmental Learning Center of Goshen College, were among the first group personally trained by Nobel Laureate Al Gore to spread the message about the challenges of and solutions to the climate crisis in the faith community.Yoder and Steury participated in The Climate Project (TCP) training program, and they are available to deliver an educational slideshow on climate change based on technical training to become effective presenters of a version of Gore's slideshow, which was the basis of his best-selling book and the Academy Award-winning documentary film An Inconvenient Truth. Yoder and Steury are making presentations mainly in Michiana, discussing how churches, individuals and communities can reduce their environmental impact and urge others to action.
"People of faith are vital to the effort to combat the climate crisis and represent all walks of life," said Gore. "I am certain that they will have a tremendous impact as they return home to their congregations and communities all across the United States."
Yoder is an ordained pastor and currently serves as Goshen College campus pastor and assistant professor of youth ministry. He received a bachelor's degree in biology from Eastern Mennonite University in Harrisonburg, Va., a master of divinity degree from Associated Mennonite Biblical Seminary in Elkhart, Ind., and a doctor of ministry degree from Western Theological Seminary in Holland, Mich.
"I am a relative newcomer to the issue of global warming and the changing climate realities of our time. I had been aware of this matter for quite a number of years, but it simply was not part of the 'burning issues' that were high on my own priority list of passions," said Yoder. "However, matters of faith and peace and shalom justice have been a central part to my faith understanding for many years, and this ultimately is why now I am more convinced that this issue is of pressing importance, particularly for communities of faith."
Steury is the education coordinator at Merry Lea Environmental Learning Center of Goshen College. He received a bachelor's degree from Goshen College and a master of science degree in outdoor resources management from Indiana University.
"We are encouraging the church to think about stewardship and limiting their carbon footprint," Steury said.
The two Goshen College faculty members are available to present separately. Their presentations are between 45 and 90 minutes in length, though they can accommodate varying contexts. To invite Yoder to speak to your group, contact him at (574) 535-7542 or robertey@goshen.edu. To invite Steury to speak to your group, contact him at (260) 799-5869 or paulds@goshen.edu.
The college also has a wider commitment to addressing climate change. In the spring of 2007, Goshen College President James E. Brenneman made a pledge on behalf of Goshen College by becoming a charter signatory to the American College & University Presidents Climate Commitment. In doing so, Brenneman joined with leaders of 175 other higher education institutions that also had agreed at that time to neutralize greenhouse gas emissions — the point at which carbon-dioxide emissions are offset by the use of renewable sources of energy and the carbon dioxide that is absorbed and stored as carbon in trees and other plants on campus.
Another significant commitment the college made was the construction of Rieth Village, an ecological field station for undergraduate programs, at Merry Lea Environmental Learning Center. Earlier this year, it was the first building in Indiana to receive a LEED Platinum Award, the highest standards of the U.S. Green Building Council.
Editors: For more information about this release, to arrange an interview or request a photo, contact Goshen College News Bureau Director Jodi H. Beyeler at (574) 535-7572 or jodihb@goshen.edu.
### 
Goshen College, established in 1894, is a residential Christian liberal arts college rooted in the Anabaptist-Mennonite tradition. The college's Christ-centered core values – passionate learning, global citizenship, compassionate peacemaking and servant-leadership – prepare students as leaders for the church and world. Recognized for its unique Study-Service Term program, Goshen has earned citations of excellence in Barron's Best Buys in Education, "Colleges of Distinction," "Making a Difference College Guide" and U.S. News & World Report's "America's Best Colleges" edition, which named Goshen a "least debt college." Visit www.goshen.edu.