Advocate for needs in Africa, Mukarabe Makinto-Inandava, to speak at Goshen College Commencement April 27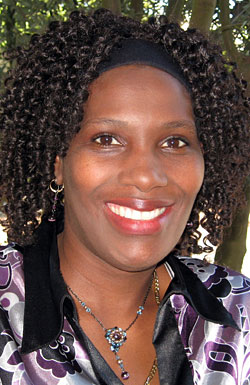 GOSHEN, Ind. – A native of Burundi, East Africa, who is an advocate for issues challenging developing countries will present the 110th graduating class of Goshen College with a final address of their undergraduate careers during the 2008 commencement on April 27.Mukarabe Makinto-Inandava, now a resident of Rancho Palos Verdes, Calif., will present her commencement address at 3 p.m. in the college's Roman Gingerich Recreation-Fitness Center on Sunday, April 27, 2008, following an 11 a.m. Baccalaureate service in the Church-Chapel, with President James Brenneman preaching. Approximately 225 seniors will receive diplomas from Goshen College during the service.
Makinto-Inandava is an ordained minister and a co-founder of Amahoro International, a faith-based organization. She serves on the executive committee for the North American Mission Fellowship (NAMF), is a liaison between the Mennonite Church USA First Generation Immigrant Churches initiatives and immigrant churches within the Pacific Southwest Mennonite Conference.
Prior to coming to the United States, Makinto-Inandava worked to meet the significant needs in several of Africa's war-torn regions. She worked for the U.S. Agency for International Development (USAID) and the Peace Corps in Burundi, and then after the Rwandan genocide she served with the United Nations World Food Program (WFP) in Kenya and Rwanda. She became a United Nations volunteer to Madagascar in charge of an education and nutrition development project for children.
She then became an advocate on the international level on such social issues as poverty and HIV/AIDS facing female orphans in Africa, serving on a committee for the Millennium Forum in 2000, and speaking before the General Assembly and the World Economic Forum.
Makinto-Inandava received a bachelor's degree from the University of Bujumbura and master's degrees in administration of public and health administration at Portland (Ore.) State University, and is a certified interpreter in four languages. She is married to George Makinto and is the mother of three young sons.
Schedule of weekend commencement activities:
Saturday, April 26
1:30 p.m. – 
Senior Nurses' Pinning Ceremony, Church-Chapel
1-5 p.m. – 
Informal departmental receptions, various locations on and off campus
7:30 p.m. – 
Senior Class Program, Sauder Concert Hall, Music Center
8:45-10:30 p.m. – 
President's Reception for graduates and their families, Music Center lobby
Sunday, April 27
11 a.m. – 
Baccalaureate Service, Church-Chapel
3 p.m. – 110th Annual Commencement, Roman Gingerich Recreation-Fitness Center
Editors: For more information about this release, to arrange an interview or request a photo, contact Goshen College News Bureau Director Jodi H. Beyeler at (574) 535-7572 or jodihb@goshen.edu.
###
Goshen College, established in 1894, is a residential Christian liberal arts college rooted in the Anabaptist-Mennonite tradition. The college's Christ-centered core values – passionate learning, global citizenship, compassionate peacemaking and servant-leadership – prepare students as leaders for the church and world. Recognized for its unique Study-Service Term program, Goshen has earned citations of excellence in Barron's Best Buys in Education, "Colleges of Distinction," "Making a Difference College Guide" and U.S.News & World Report's "America's Best Colleges" edition, which named Goshen a "least debt college." Visit www.goshen.edu.