Asian-American artist Roger Shimomura offers 2006 Eric Yake Kenagy Visiting Artist lecture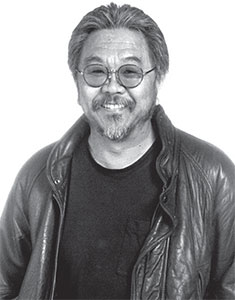 GOSHEN, Ind. – Asian-American painter, printmaker and performance artist Roger Shimomura is the Goshen College Art Department's 2006 Eric Yake Kenagy Visiting Artist and will present several public programs on Nov. 15. At 10 a.m., he will speak in the Church-Chapel during convocation on "Return of the Yellow Peril," about dealing with Asian stereotypes. At 7 p.m., he will speak on "An American Diary" in the Music Center's Rieth Recital Hall, with a reception following. The presentations are free and open to the public.
Shimomura is an artist whose work addresses socio-political issues of Asian-Americans specifically inspired by personal experience as a child held with his family in a "camp" during World War II and 56 years of diaries kept by his late immigrant grandmother. He received a bachelor's degree from the University of Washington, Seattle, and a master of fine arts degree from Syracuse University, New York.
Shimomura has had over 100 solo exhibitions of his paintings and prints, as well as presented his experimental theater pieces at such venues as the Franklin Furnace, New York City, Walker Art Center, Minneapolis, and The Smithsonian Institution. He has received over 30 grants, among them four prestigious National Endowment for the Arts Fellowships in Painting and Performance. He has lectured as a visiting artist at over 200 universities, art schools, and museums across the country. In 2002, the College Art Association presented him with the "Artist Award for Most Distinguished Body of Work," for his four-year, 12-museum national tour of the painting exhibition, "An American Diary." The year following, Shimomura delivered the keynote address at the 91st meeting of that association in New York City. In 2006, he was accorded the Distinguished Alumnus Award from the School of Arts & Sciences, University of Washington.
Shimomura, now retired, taught from 1969 to 2004 at the University of Kansas, where in 1994 he was the first to receive the University Distinguished Professor award in the School of Fine Arts. In 1998, he was the recipient of the Higuchi Research Award; the highest annual honor awarded a faculty member in the Humanities and Social Sciences. In the fall of 2002, he received the Chancellor's Club Career Teaching Award for sustained excellence in teaching and dedication to students at the University of Kansas. In 2004, when he retired from teaching, he initiated the Shimomura Faculty Research Support Fund, an endowment to support art faculty research.
The Archives of American Art in the Smithsonian Institution, Washington, D.C., are collecting Shimomura's personal papers. He is represented by The Flomenhaft Gallery, New York City, Greg Kucera Gallery, Seattle, and Jan Weiner Gallery, Kansas City.
The Hershberger Art Gallery in the Music Center also features an exhibition of Shimomura's "Three Suites of Lithographic Prints," which will run through Nov. 29.
Shimomura is the 20th Eric Yake Kenagy Visiting Artist Program speaker. The program honors the late Eric Yake Kenagy, who was a gifted ceramics student at Goshen College from 1984 until his death in 1986. Through this program, his family and friends wish to celebrate the creativity Eric expressed in his too-short life, and to share with Goshen College and its friends events that will inspire others to develop their own creativity.