Goshen College announces date for Brenneman inauguration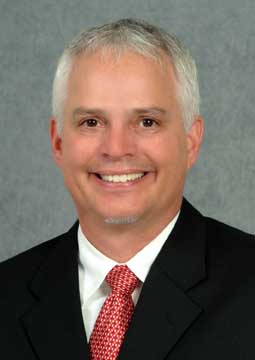 GOSHEN, Ind. – Goshen College is preparing to welcome President-elect James E. Brenneman to campus in July, when he begins his term of leadership, and has announced its plans for inauguration festivities during the first full week of September, highlighted by the installation ceremony on Sunday, Sept. 10.
In addition to the formal installation service, inauguration-related events are planned beginning Thursday, Sept. 7, and include a campus chapel, gatherings of area business and community representatives during which he will speak on leadership issues, a tree planting ceremony, a campus celebration and other activities.
While Brenneman will have occupied the president's office in the college's Administration Building for two months prior to the inauguration – a normal timeline for the beginning work of college presidents – the events will serve as an opportunity for the campus, community, colleagues from other academic institutions, church leaders and others to formally acknowledge his leadership and welcome him. He, in turn, will have had the opportunity to welcome new and returning students to campus and to be involved in beginning-of-the-year faculty and administrative organizational activities.
According to college officials, the inaugural theme is "Growing Wisdom and Wonder," which relates to the Scriptural passage from Isaiah (Chapter 11) selected by Brenneman – an educator, biblical scholar and church leader – to guide the inauguration events. The president-elect said that the text is inspiring his preparation in the transfer to leadership of Goshen College and sharing its mission and core values.
"In this text, the prophet Isaiah imagines a future in which the Messiah or Christ comes as an educator filled with wisdom and wonder on behalf of those who lack even the basics of life, like a good education," said Brenneman. "As a Christ-centered community, I hope Goshen College will always be at the forefront of helping to fulfill Isaiah's promised future by following Christ in intellectual inquiry, while maintaining a deep reverence for God, in order to serve others."
Before moving full time into the president's office, Brenneman has been engaged in college issues and events during his preparation period. He has regularly worked with Interim President John D. Yordy, who has served in that role since October 2004 upon the resignation and departure of former Goshen College President Shirley H. Showalter, and has been engaged in college faculty search processes. Brenneman has also met Goshen College alumni at various gatherings across the country, and joined the campus for the 2006 commencement ceremony on April 23.
Brenneman will move with his family – wife Terri J. Plank Brenneman, a clinical psychologist, and their son Quinn – to Goshen in June, when their son completes the elementary school year where they reside in South Pasadena, Calif. Brenneman has visited campus numerous times as he prepares to serve as the college's 16th president. He was named to the post in December 2005 by the Goshen College Board of Directors, and formally begins his term July 1.
A 1977 Goshen College graduate, Brenneman is the founding and lead pastor of Pasadena (Calif.) Mennonite Church, where he was ordained in 1986. He attended Associated Mennonite Biblical Seminary and finished his master of divinity degree at Fuller Theological Seminary. He also holds a master of arts degree, in religious studies, and a doctorate in Hebrew Bible and Old Testament studies from Claremont Graduate University.
Brenneman joined the Pastoral Leadership Commission of the Pacific Southwest Mennonite Conference in 1990 and served on the Council on Faith, Life and Strategy of the Mennonite Church. He was president of the Center for Anabaptist Leadership and School of Urban Ministry in Los Angeles, Calif., from 1991 to 2002 and served again recently in that role for the organization. Brenneman's teaching and scholarship has led him to posts on the faculty in Old Testament studies at Episcopal Theological School and as an adjunct professor at both Fuller Theological Seminary and Claremont School of Theology.
The author of "On Jordan's Stormy Banks: Lessons from the Book of Deuteronomy" (Herald Press, 2004) and " Canons in Conflict: Negotiating Texts in True and False Prophesy" (Oxford University Press, 1997), Brenneman has written book chapters and published numerous articles on theological and church-related themes. He is a frequent lecturer and presenter at scholarly and church life events, often speaking on leadership.
In becoming the next president of Goshen College in its 112-year-old history, Brenneman joins a list of recent leaders that includes: Shirley H. Showalter, 1997-2004; Henry D. Weaver (interim president), July-December, 1996; Victor E. Stoltzfus, 1984-1995; J. Lawrence Burkholder, 1971-1984; and Paul E. Mininger, 1954-1970.
Editors: For more information about this release, contact Goshen College Public Relations Director Rachel Lapp at (574) 535-7571 or racheljl@goshen.edu.
###
Goshen College, established in 1894, is a four-year residential Christian liberal arts college rooted in the Anabaptist-Mennonite tradition. The college's Christ-centered core values – passionate learning, global citizenship, compassionate peacemaking and servant-leadership – prepare students as leaders for the church and world. Recognized for its unique Study-Service Term program, Goshen has earned citations of excellence in Barron's Best Buys in Education, "Colleges of Distinction," "Making a Difference College Guide" and U.S.News & World Report's "America's Best Colleges" edition, which named Goshen a "least debt college." Visit www.goshen.edu.