Bluegrass legends Peter Rowan and Tony Rice Quartet to perform at Goshen College on Feb. 11; Tickets currently available
Tuesday, January 31, 2006
Bluegrass legends Peter Rowan and Tony Rice Quartet to perform at Goshen College on Feb. 11; Tickets currently available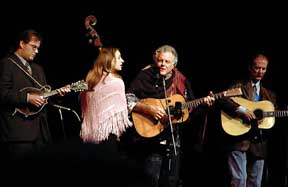 GOSHEN, Ind. – Two of the most influential musicians in American bluegrass music – Peter Rowan and Tony Rice – will perform with their quartet at Goshen College on Feb. 11 at 7:30 p.m. in Sauder Concert Hall in the Music Center. The special concert is offered as an addition to the Performing Arts Series.
A Grammy award winner and five-time Grammy nominee, Rowan is a soulful singer and poignant songwriter who has developed an international fan base. He followed in the footsteps of his music-making parents and extended family, joining different bands through high school and college. He became a professional musician in 1963 and joined the Mother Bay State Entertainers in Cambridge, Mass., then went on to become involved in various groups, including Bill Monroe's Blue Grass Boys and Earth Opera – Rowan also launched a successful solo career and keeps a busy touring schedule. He has released more than 15 albums and has recorded on numerous others.
Rice, successor in a long line of Americana musical icons, is recognized as an acoustic guitar virtuoso in bluegrass, folk and jazz-influenced music. He is said to epitomize the best in bluegrass and acoustic music, as his style spans traditional bluegrass and folk to American jazz. He cites Clarence White and David Grisman, who revolutionized the bluegrass music scene, as two of his biggest influencers.
Rice is also well-known for his innovations in flatpicking guitar. Throughout his career, he has performed with a number of legendary musicians; he leads his own groups and has been an accomplished member of others. He has released a significant number of albums, both as a solo artist and in collaboration with others.
This collaboration of musical talent and that of other skilled musicians, The Peter Rowan and Tony Rice Quartet will share a phenomenal and memorable performance. "This pairing of long-time friends and musical legends Peter Rowan and Tony Rice is a musical marriage made in heaven," wrote "Relix Magazine," a music magazine. "Rowan is one of the most expressive and resonant vocalists around, and Rice is one of the most inventive and imaginative flat-picking guitarists of all time."
Future concerts in the Performing Arts Series:
· March 10, 7:30 p.m. – The Blind Boys of Alabama
· March 31, 7:30 p.m. – Clarinetist Richard Stoltzman and pianist Peter Stoltzman
Concert tickets are $20 for A section, $15 for B section or $7 for C section seats. For information about ticket availability, prices, reservations or more information, contact the Welcome Center at (574) 535-7566 or e-mail welcomecenter@goshen.edu.
– Jennifer Rupp
Editors: For more information about this release, to arrange an interview or request a photo, contact Goshen College News Bureau Director Jodi H. Beyeler at (574) 535-7572 or jodihb@goshen.edu.
###
Goshen College, established in 1894, is a residential Christian liberal arts college rooted in the Anabaptist-Mennonite tradition. The college's Christ-centered core values – passionate learning, global citizenship, compassionate peacemaking and servant-leadership – prepare students as leaders for the church and world. Recognized for its unique Study-Service Term program, Goshen has earned citations of excellence in Barron's Best Buys in Education, "Colleges of Distinction," "Making a Difference College Guide" and U.S. News & World Report's "America's Best Colleges" edition, which named Goshen a "least debt college." Visit www.goshen.edu.