Wood sculptor and Holocaust survivor Ursula von Rydingsvard offers 2004 Eric Yake Kenagy Visiting Artist address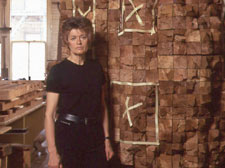 GOSHEN, Ind. – Sculptor Ursula von Rydingsvard creates metaphors in wood.
Selected by the Goshen College Art Department as the 2004 Eric Yake Kenagy Visiting Artist, von Rydingsvard will give an illustrated presentation on Oct. 21 at 7 p.m. in Rieth Recital Hall, Goshen College Music Center.
Born in Germany in 1942, von Rydingsvard spent her early childhood in Nazi labor camps and later in refugee camps until her parents and their seven children were able to immigrate to the United States in 1950.
For von Rydingsvard, wood became the key to unlocking the autobiographical and ancestral content that she has since transformed into metaphor. Her wood sculptures resonate with a sense of history and human presence. Their varied shapes and surfaces, while essentially abstract, suggest human figure, landscape elements, household utensils and farm implements. The titles and forms of her sculptures also recall the countryside and tools familiar to her Polish farming family.
Sculpting mainly with cedar since the mid-1970s, von Rydingsvard has developed a hybrid technique that involves both constructing and carving her works. The flexibility of her technique allows her to construct both intimate and extremely large-scale work.
The contemporary artist has gained national and international acclaim for her large and distinctive wooden forms and was featured on the cover of Sculpture Magazine in July 2003. Von Rydingsvard "combines primordial forms and highly expressive content to produce haunting and monumental works of uncommon power," said Smithsonian Magazine.
Von Rydingsvard's work has been featured in museums such as the Metropolitan Museum of Art, Whitney Museum of American Art, the Walker Art Center and the Detroit Institute of Arts. A number of private collectors, including Microsoft Corporation, have commissioned outdoor pieces.
"Von Rydingsvard is in the front rank of sculptors today," said Martin Friedman, director emeritus of the Walker Art Center. "She is also a key figure in restoring to sculpture its sense of craft."
Von Rydingsvard studied sculpture at Columbia University with Ronald Bladen, George Sugarman and Jean Linder and now resides in New York City.
Von Rydingsgard is the 18th Eric Yake Kenagy Visiting Artist Program speaker. The program honors the late Eric Yake Kenagy, who was a gifted ceramics student at Goshen College from 1984 until his death in 1986.