Goat Island Performance Group to offer 2003-04 Eric Yake Kenagy Visiting Artist lecture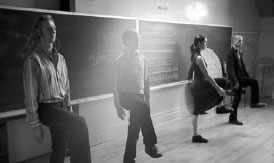 GOSHEN, Ind. – The Goshen College Art Department has selected the Goat Island Performance Group as the 2003-04 Eric Yake Kenagy Visiting Artist.
Goat Island will show their documentary "A World of Art: Works in Progress" at 7:30 p.m. Nov. 1 in Umble Center. A reception with the artists will follow. They will give a collaborative group lecture, "2002 – The Year Long Writing Project," Nov. 2 at 2 p.m. in Rieth Recital Hall, Music Center. Both events are free and open to the public.
Goat Island is a collaborative performance group consisting of Karen Christopher, Matthew Goulish, Lin Hison (director), Mark Jeffery, C.J. Mitchell (manager), Bryan Saner and Lito Walkey. Their performances are often set in spaces closer to the viewers than a traditional stage, using a combination of dance-like and everyday movements. With a historical or contemporary issue as a central theme, they use their bodies in time and space to create images that change the way viewers think about the issue. The process makes extreme demands on the performers physically and challenges the viewers perceptually.
Goat Island has completed seven works since its founding in 1987, including The Sea & Poison (1998) and It's an Earthquake in My Heart (2001). Works can take up to two years of research, writing and choreography with each member of the group contributing to its development. Goat Island talks about this process of development as a conversation. The group's eighth piece, When Will the September Roses Bloom?, is scheduled for completion in 2004.
Goat Island is the 17th Eric Yake Kenagy Visiting Artist. The program honors the late Kenagy, who was a gifted ceramics student at Goshen College from 1984 until his death in 1986.