Vera Klement offers public address on her painting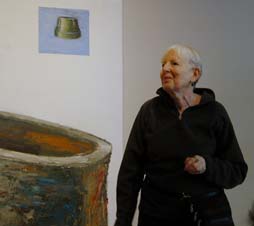 GOSHEN, Ind. – The Goshen College Art Department has selected nationally recognized figurative abstractionist Vera Klement as the 2003 Eric Yake Kenagy Visiting Artist.
Klement will give an illustrated presentation titled "My Work and My Life" at 7 p.m. Feb. 20 in the Goshen College Music Center Rieth Recital Hall.
Her paintings will be displayed in the Goshen College Abner Hershberger Art Gallery from Feb. 20 through March 26; a reception in the gallery is scheduled for 8-9:30 p.m. Feb. 20.
Klement has been creating and exhibiting art for over 50 years. After graduating from The Cooper Union School of Art and Architecture in New York, Klement moved to Chicago where she taught painting at the University of Chicago from 1969 to 1995. She quickly established herself in the Chicago art scene as a member of the rebellious Five. These figurative imagists served as a distinctive counterpoint to the prevailing 1960's ironic narrative figurative imagists, such as those represented in the Hairy Who exhibitions of the late '60s.
Klement's work has been displayed in numerous significant venues across the United States. The Chicago Cultural Center recently honored her with a solo exhibition. In 2001, the Fassbender Gallery of Chicago organized a traveling exhibition of her paintings for the Fort Wayne Museum of Art, Fort Wayne, Ind.; the University of Arizona Museum of Art, Tuscon, Ariz.; and the Mary & Leigh Block Museum, Northwestern University, Evanston, Ill. Klement has received numerous grants and awards.
Both the lecture and reception are free and open to the public.
The Abner Hershberger Art Gallery, located in the Music Center, is open from 9 a.m. to 4:30 p.m. Monday through Friday, from 1-4 p.m. Saturday and from 2 to 4 p.m. Sunday. The building is accessible to people using wheelchairs and others with physical limitations.
Klement is the 16th Eric Yake Kenagy Visiting Artist Program speaker. The program honors the late Kenagy, who was a gifted ceramics student at Goshen College from 1984 until his death in 1986.