The Agroecology Summer Intensive is a full semester's worth of credit that combines hands-on learning, classroom instruction, and unique real world experiences with community partners throughout the food system to provide a well-rounded introduction to sustainable agriculture and food systems.  Credit is divided between 4 course areas and an internship.  All instruction takes place at Merry Lea Environmental Learning Center by dedicated instructors and all credits are accredited by the Higher Learning Commission through Goshen College.
SUST 408: MERRY LEA FARM INTERNSHIP
1 credit, Professor John Mischler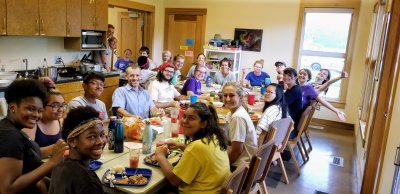 This is a one week orientation to the farm where you will work, learn, and live for the next 10 weeks.  Time will be spent training with tools, crops, and animals, visiting other local farm enterprises, building community, and enjoying campfires and lake swims!

SUST 210:  Animal Husbandry
3 credits, Professor Ruth Mischler
This course builds student understanding and experience with animals in agricultural systems from the ground up. Students work extensively with Merry Lea's livestock to become familiar with the life habits and unique niche of each animal.  Basic veterinarian care, forage, and feed rations will also be covered.  Students then extend their knowledge to the full farm system.  Field trips across the entire spectrum – from pastured to confined animal operations – round out the course as students ruminate on the role of animals in sustainable and resilient agricultural systems.  As part of this course students will also complete an animal research project caring for chickens through their entire life cycle from chick to dinner plate. Students will connect to other courses through investigations of manure (nutrient cycling), farm biodiversity, pollination, integrated pest management, soil microbiology and the ethical implications of raising animals for consumption.
SUST 215:  Food Systems
3 credits, Professor John Mischler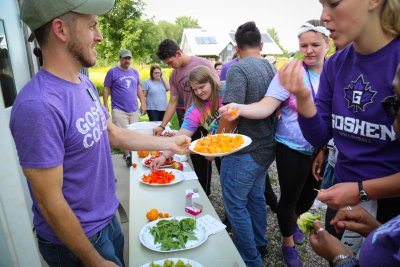 This discussion-based course frames the interdisciplinary nature of food and includes a systems approach to thinking about how food gets from soil to table with specific attention to human actors and actions. In this course students incorporate elements of rural sociology, political science, economics, business management, and others to identify what a food system is and how it functions; ultimately with an eye towards identifying and addressing vulnerabilities in current food systems.   Discussion topics will include the natural resources of food production, specific human actors in food systems, food distribution, food processing and the food industry, food policy and food activism, as well as unifying cultural and and moral/ethical aspects of food.
SUST 316:  Crop and Soil Management
4 credits, Professor Ruth Mischler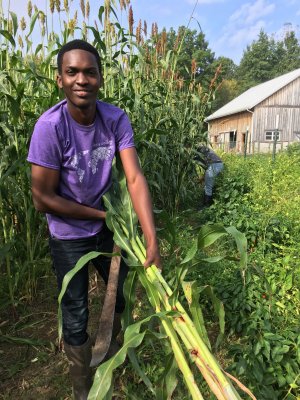 This course provides a holistic view of cropping systems – starting with what makes the vibrant living soils foundational for regenerative ecosystems. Students learn the basics of soil biology, structure and function as it applies to agroecosystems in a hands-on approach through instruction in our Education Garden, Greenhouse, Orchard, and Perennial Polyculture spaces.  Students consider multi-species cropping systems, intercropping, companion planting, etc. to construct Permaculture systems that take into account nutrient cycling, integrated pest management, and hydrology to increase productivity while enhancing sustainability and resilience. As part of this course students will design and implement an agroecological garden used for K-12 food literacy education outreach programs to neighboring communities. Emphasis is on hands-on, experiential learning from seed to table. Students will plant, grow, tend, harvest, prepare, and share a celebratory farm-to-table meal that features their learning and achievements!
SUST 318:  Ecology of Agricultural Systems
4 credits, Professor John Mischler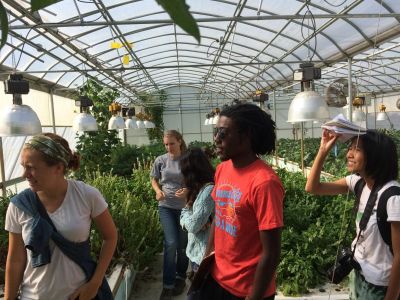 Course investigates the ecological and social systems involved in and affected when manipulating natural systems to produce food, feed, fiber and medical products. Students are given tools to critically assess landscapes for both their agriculture merits and ecological features. Topics will include the theoretical basis of agroecology, social movements in agricultural history, biological life cycles and nutrient cycles, and alternative agricultural production systems.