ASI Tuition and Financial Aid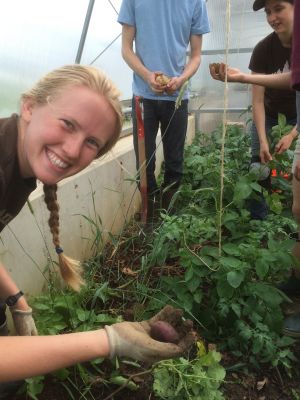 The Agroecology Summer Intensive (ASI) is a 10-week 15-credit accelerated semester intentionally designed to serve students from both Goshen College and students from other colleges and universities.  All majors and interests are welcome!
Tuition – Goshen College Students: Taking ASI is simple! At Goshen College the ASI experience is treated just like any other semester. You can use your financial aid just like you would any other semester at Goshen. Contact John Mischler (jamischler@goshen.edu) to get started on your ASI application.
Tuition – Guest Students from other Colleges & Universities: . Please contact John Mischler (jamischler@goshen.edu) to find out if your college or university has a special agreement for students to take the ASI experience here with us. If not, no worries! Students from non-affiliated institutions come to take ASI with us all the time! Please contact John Mischler and he will work with you and your college or university to determine the specifics of your individual tuition package; limited tuition assistance is available. The first step is submitting your ASI application.
Room & Board: You will be living, working, and eating in community from our LEED Platinum certified cottages situated right here on our farm. Contact John Mischler for current room and board costs – they are considerably less than room & board for a regular semester on campus. Included in your Room & Board is a CSA share of vegetables from our farm as well as meat, eggs, milk, and cheese – all raised right where you live! Additionally, basic bulk goods are also provided (rice, flour, beans, peanut butter, etc.). Typical student out-of-pocket food costs are less than $10 per week per person.
Certificate Option: If you do not need college credit but are still interested in the full suite of experiences offered as part of ASI please contact John Mischler for more information.
Email John Mischler with additional questions: