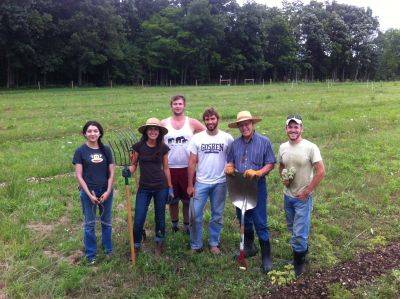 The 2019 Agroecology Summer Intensive application deadline is March 31. Individual applications will be considered after this date on a case-by-case basis.
The ASI 2019 program will begin Tuesday, May 28th and run through Friday August 2nd.
Application instructions are listed below for:
Goshen College Students
Students from other colleges looking to take ASI for credit
Certificate students (non-credit)
For students already enrolled at Goshen College:
Discuss with your academic advisor how participation in the ASI fits in your overall program of study. Note: this program is open to students of all backgrounds, regardless of major.
Communicate with Dr. John Mischler regarding your interest.  At this stage he will connect you with:

Goshen College CORE committee – you are able to petition to get GC CORE credit (NW, SW, PX) for courses in the ASI but you must petition BEFORE you take the courses
Goshen College Financial Aid – you will have access to the same financial aid package during the ASI summer semester that use during any other semester at Goshen College.  Joel Short in the financial aid office will give you the details

Register for the ASI courses online:
Tuition and fees are due by the first day of the program.
For undergraduate students enrolled at other colleges/universities ("non-degree seeking students") who are interested in earning academic credit for transfer:
Discuss with your academic advisor how participation in the ASI fits in your overall program of study.
Contact Dr. John Mischler as early as possible with your expression of interest. Note that it can take weeks to get approval from your home school to apply credits from a different school, and we may need to prepare and to provide materials that will help you in that process.
Complete the ASI Application. Your application will be reviewed and you will be contacted by John Mischler for a follow-up phone conversation.  You will then be notified of acceptance through email.  John Mischler will then work with you to determine your particular tuition package.  When possible tuition packages are constructed to be comparable to a semester at the student's home institution.
Apply for admission to Goshen College as a guest student. An official transcript from your home institution is required, as well as basic information about you. You will be given a Goshen College ID number so that you can transfer credit from Goshen College to your home institution. Your primary contact person for this process is Admissions Counselor Steph Swartzendruber Snyder, and she can answer admissions questions you have at this stage.
Make an enrollment deposit.  **Tuition and fees for the ASI are due by the first day of the program.
John Mischler will carry out your registration on your behalf in the ASI courses with the Goshen College Registrar.
For individuals seeking experience but no college credit:
Communicate with John Mischler regarding your interest.
Complete the ASI Certificate Application.
Note: Program fees for the certificate version of the program are handled directly with Merry Lea rather than through offices on Goshen College campus.  Contact John Mischler if you have questions about current fees for certificate students.