Mugumu – IMARA and Nyerere DDH Hospital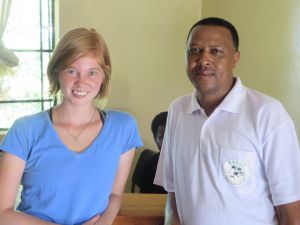 On Thursday evening we left Ikoma and took Alia with us to Mugumu to visit Twila Albrecht and Katrina Kennel who have been living there.  We arrived at Mugumu in the early evening, in time to host everyone for dinner at the Giraffe Garden Hotel.  We had a fun evening catching up, laughing, and enjoying soup, chapatis, and chicken and rice. Alia spent the night at Katrina's house.
Friday morning we met Twila at her service location office. Twila is working at IMARA, a non-profit organization under the Tanzanian Mennonite church that works in a variety of community development activities.  Twila's work has focused on HIV AIDS testing for community members.  She assists in administering HIV AIDS tests, registering the patients, and referring them to the local hospital should they require medicine.  Her project will focus on developing some articles that further explain IMARA's vision and programmatic goals, for use in grant-writing and marketing.  She has also begun to do some home visits with her colleague Abuba.  We were treated to a great tour of IMARA by the director, Mr. Lot Misinzo (who also happens to be Twila's host dad!).
After learning about IMARA, Katrina took us to her service location (about a block away!).  Katrina works at the Nyerere DDH Hospital, also started by the Mennonite Church (now run by the government). She has mainly been working in the CTC (Center for Treatment & Counseling). The CTC receives HIV AIDS patients and (in addition to testing) provides medicines, offers counseling for patients regarding how to take their medicines, and provides advice on dietary requirements for patients.  Katrina has helped with data entry, receiving patients, and other work required at the CTC.
After our work visits, we had lunch with the students to have more time to reflect on how their service is going. Both Twila and Katrina are very happy in Mugumu and have found meaningful work!  They do not have access to internet, so we are passing on their love to all their friends and family!
After lunch we visited Katrina's host mother and sister.  Mama Jane welcomed us warmly for afternoon tea.  We even received a short tour of her banana farm – we were lucky enough to taste some of her sweet bananas for tea. She also grows matoke (cooking bananas) at her shamba (farm).  In the afternoon we stopped in to see Katrina in action at her kwaya (choir) practice.  She rehearses daily with the church kwaya and Saturday was planning to sing at a wedding with them!  We dropped the students at their homes in the evening and visited Twila's house before turning in for the night.
Mugumu is a town that has a long history with the Mennonite Church/MCC/EMM.  Jan Emswiler and Kajungu Mturi (who many of you at GC know) are from Mugumu.  We enjoyed passing on their greetings!
Today we are back in Musoma for a re-fueling before a new week of visits.  On Monday we will visit Alicia Hofer at her service location nearby to Musoma (some of the Musoma students are joining us). On Tuesday we will visit Andre and Eva at Mogabiri and Jess and Evan at Nyerero, before ending the week at Kemgesi to see Jenna and Lynelle.
– Greetings from all the students, Ryan