Final retreat in Zanzibar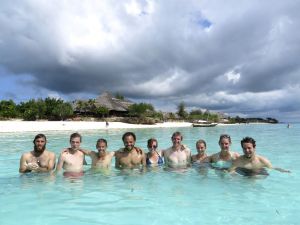 We just returned this Saturday April 5th from our final 3-day retreat in Zanzibar.  We left Musoma on Tuesday morning via bus to the town of Mwanza, also on Lake Victoria. In Mwanza we caught an airplane to Dar es Salaam where we spent one night at the YMCA – the same hostel the students stayed at for their first night in Tanzania (things come full circle).
On Wednesday morning we walked with our luggage to the harbor where we boarded a ferry to go to Zanzibar, where we spent the next three nights.  The first night we stayed at Karibu Inn in Stonetown. Students were impressed with the history in Stonetown and took advantage of free time in the afternoon to go on a spice tour. In the evening we had dinner on the plaza with all manner of seafood to choose from.
Thursday morning we had breakfast and some free time, after which we boarded a daladala (Zanzibar style) to head to Nungwi on the north beach.  We spent the next 2 nights at Nungwi Inn with the mornings free for conversation, swimming, snorkeling, henna art and general rest.  In the afternoons we met as a group for final project presentations and to de-brief and prepare for returning home.
The last evening on Friday night we had our final group supper together on the beach. We have been so thankful for the dedication each student has brought to the experience. They have lived well, deeply absorbing the opportunities and challenges that life in another culture provides. Students articulated how learning in the context of SST has been learning like no other – with the formation of deep relationships and personal growth. They shared stories that reflect the growing confidence they have in working to match their gifts toward meeting the needs we see in the world.
For the families and friends who are reading the blog, please know that the students are very eager to share these stories with you in person! We have seen the world the way it is and for this we are so grateful.
– Ryan for the entire (sun-burned) team