Safely back from service!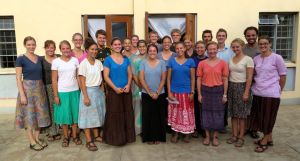 Today was a day of mixed emotions!  The students all safely arrived back in Musoma from their various service locations and of course were delighted to reconnect and see one another again! However, it is of course also a day of saying goodbye to their host families, friends, and co-workers.
All the students arrived without incident by 2:00 p.m. and hit the town for lunch on their own.  After some free time at the Mennonite Center in Musoma, we convened for our first "unit house" meeting since Dar es Salaam! We sang hymns and discussed the upcoming week's schedule as we prepare to de-brief, process our experience, and share our findings from research projects and service work.
Tomorrow, April 1st, we'll leave Musoma at 9:30 a.m. and drive to Mwanza, arriving by 1:00. We'll fly from Mwanza to Dar and arrive in the evening, staying at the YMCA – the place where the journey began about 11 weeks ago! On Wednesday we'll take the ferry to Zanzibar for 3 nights to include some snorkeling, spice tours, and project presentations.  Stay tuned!
– Ryan for the team, all in one place again!