Ikoma Cultural Center and Nyerere Museum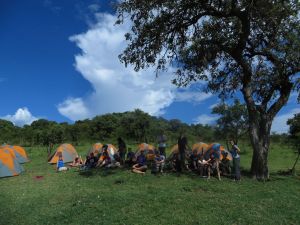 Safari – Sat. Feb. 22nd – Visit to Butiama
On our last day of our safari we loaded a rented bus to make the 3 hour drive to Musoma.  We enjoyed our 2 nights of camping at Ikoma Cultural Center, which included exposure to Ikoma traditional culture and Ikoma dancing.  (Alia Munley is volunteering at Ikoma Cultural Center for her service assignment, so more information will be coming this week!)
We crammed all our luggage (and bodies) in the bus – which was another feat worthy of a video!  On the trip to Musoma we stopped at the small town of Butiama, the home to the first President of Tanzania, Julius Nyerere.  In Butiama we toured Nyerere's home residence and the mausoleum where his body was laid to rest. The compound was first owned by Nyerere's father and when Julius became president several new homes were built.  Nyerere's son, Madaraka, currently lives at the compound.
After Butiama, we sailed into Musoma and arrived at the Mennonite Center in the late afternoon, concluding our week-long trip from Dar to Musoma.
Today, Tuesday March 4th, we are heading to visit Nata (Jordan, Ellie, and Jama), Ikoma (Alia), and Mugumu (Katrina and Twila).  We'll return to Musoma for the weekend on Saturday and hope to post the results of our travels as soon as we can!
– Ryan for the entire SST team