Grumeti Reserve & Singita Hotels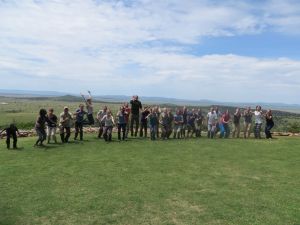 Grumeti visit – Friday Feb. 21st
On Friday, the last day of our safari, we visited Grumeti Reserve about 45 minutes from Ikoma where we were camping.  Grumeti Reserve is a very large hunting block that borders the Serengeti National Park and is situated in the path of the wildebeest migration.  John Tudor Jones bought up the hunting rights to this land and has created a game sanctuary and a high-end tourist lodge in conjunction with Singita hotels.  On average about 65 guests per night stay in one of 3 lodges at Grumeti, which are spread over about 365,000 acres of land! Grumeti prides itself in providing exclusive, private access to wildlife and cater to the likes of Oprah Winfrey and her peers.
We were treated to a tour of the main Singita lodge by Brad, the lodge manager.  This included a tour of the main lodge and detached suites, each with a private pool overlooking the plains below. We also visited the horse stables, home to 16 horses ready to provide guests with back-country camping safaris.  The entire visit was quite impressive.
We also had an opportunity to meet with the staff of the Grumeti Fund, a non-profit community outreach wing funded by Grumeti. Grumeti fund has a variety of projects including an environmental educaiton center that brings local high school students for 5 day conservation training workshops.  Other projects aim to improve schools, clinics, and infrastructure in neighboring villages. There is work in agroforestry, beekeeping, and sustainable farming.  The Fund also maintains an active wildlife and research monitoring division.  During our visit we enjoyed lunch at the Environmental Education Center and met with a group of girls from a local high school who had come for training.  The Grumeti Fund is hosting two GC students for their service assignments and you will learn more in a coming post!
We left Grumeti astounded at the sheer magnitude of of wealth some are able to use for their enjoyment of wildlife. We left the Grumeti Fund challenged by the good work they are doing to meet the needs of local communities with very few resources.  These two images juxtaposed beside one another provided a rich source of discussion for our evening chat at Ikoma when we returned that evening.
– Ryan for the team