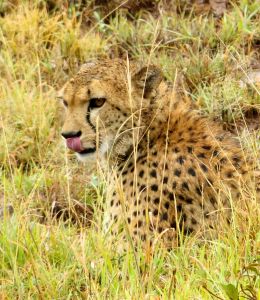 The safari – Wednesday, Feb. 19th, 2014
On Wednesday we broke camp at Ngorongoro and loaded the Land Cruisers for the short hour trip to Olduvai Gorge (Oldupai is the correct Maasai name).  Olduvai is famous for its hominid fossils dating back more than a million years ago, and the nearby Laetoli site is where hominid footprints date back to 3.6 million years ago.  It was mind-numbing to think of how much time has passed since the area spawned the first human beings.  We were equally inspired with the notion that humans have coexisted with natural systems for millennia and that humans are indeed a part of nature.
After our Olduvai visit, we traveled for another several hours to arrive at the Serengeti National Park gate.  We enjoyed a short climb to the top of a granite kopje that afforded a stunning view of the southern Serengeti (which means "endless plains").  While eating our boxed lunches under the trees a small crowd of tourists and tour guides suddenly gathered… we were surprised to see the President of Tanzania, Jakaya Kikwete!  A variety of students were able to shake his hand and get their pictures taken.  He was on holiday touring the Serengeti.
The game drive from the gate to our campsite highlighted the amazing diversity and abundance of life in the Serengeti.  But unlike the Ngorongoro Conservation Area, the park is off limits to local human communities who were forced out in 1959.  The SNP approach contrasts with the philosophy of multiple-use which we observed in the NCA.  Students wrestled with the challenges of protecting natural resources while also working to meet the needs of local peoples.
On the way into the camp we saw about 10 lion, 2 leopards, and a host of ungulates. Lets not forget the hugely important dung beetle too, without which the nutrients from grazer dung would disintegrate very slowly.  (I have a great video, available upon request). Students had a wonderful time and enjoyed a bit of soccer at the campsite before another amazing meal cooked by our camp chefs!  As the calls of lions rumbled in the distance, we enjoyed several soaking rain showers.
– Ryan