Ngorongoro Crater & Conservation Area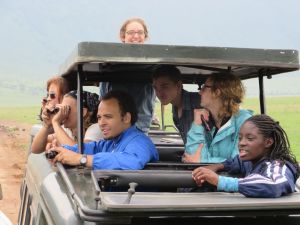 The safari – Tuesday, Feb. 18th, 2014
While the students get settled into their service assignments, we'll update you on the week-long trip from Dar es Salaam to Musoma. On Monday the 17th, we took a 9 hour bus ride from Dar to Arusha.  We spent the night at the Meru House Inn and treated the group to a dinner at the local Chinese restaurant.  Everyone was thrilled with the cooler weather, given our increase in altitude and movement away from the coast.  It was cloudy the first several days of our trip, so unfortunately we did not get to see Mt. Kilimanjaro, which was nestled under blankets of clouds.
On Tuesday morning we met our Land Cruisers at the hotel and set out for the Ngorongoro Conservation Area (NCA), an area which models a unique approach to conservation that includes human communities.  The Maasai are permitted to live and graze their cattle in the NCA, though they are not permitted to enter the crater.  For most visitors, the highlight of a visit to the NCA is a visit to the Ngorongoro Crater, a caldera which contains an outstanding diversity of wildlife and is a World Heritage Site.
The afternoon of game viewing included a stop at the hippo pool to eat our lunch.  We had to be careful to guard our sandwiches from the swooping black kites!  We saw all manner of large herbivores in the crater including buffalo, wildebeest, rhino, and zebra.  We were lucky to find a serval cat feeding on a recent kill and to have the chance to see multiple groups of lions lazily passing the day napping in the tall grass.
We camped at a campsite on the rim of the crater and we were welcomed by a huge male elephant who tromped through the site upon our arrival.  The camp crew prepared a tasty meal of soup, pasta, and fish.  We retreated to our tents to the sounds of laughing hyenas and the breezes of the cool African night – memories sure to stay with us for some time.
– Ryan for the TZ SST team