Drumroll please…our new mission statement!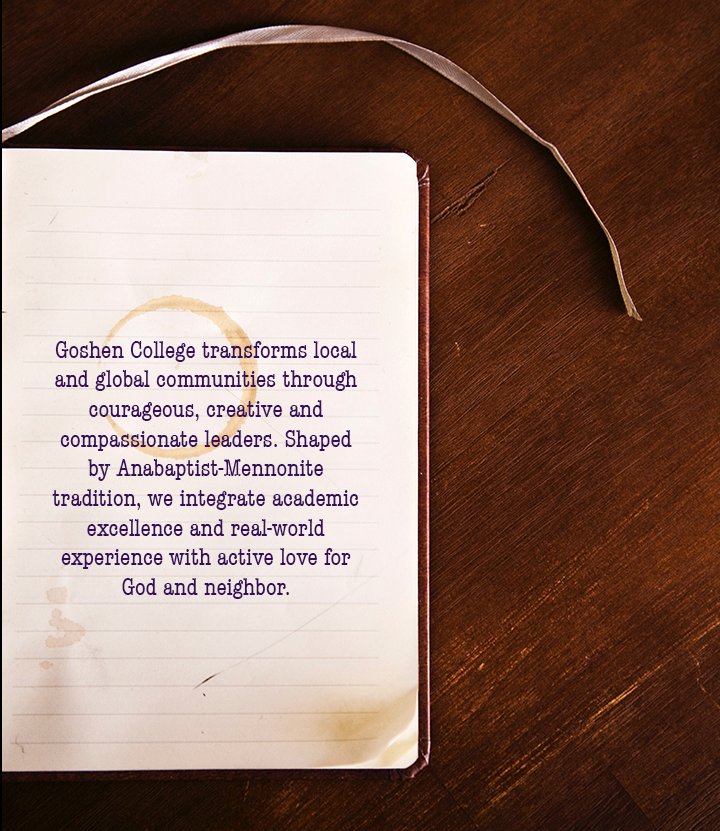 Why does Goshen College exist? In what ways would the world be diminished if we did not do what we do?
If ever there was a time to be crystal clear about our mission, this is it. As higher education becomes more and more generic, what is the distinctive mission of Goshen College?
During the past year, we have engaged in discussions with employees, Student Senate, President's Cabinet, Alumni Council and our Board of Directors. The collective wisdom was powerful. We heard from a variety of voices:
"Use plain English, please!"
"Be clear about the outcome of what we do, not just the process."
"A crucial part of our distinctiveness is that we are Anabaptist and Mennonite." AND "When I was deciding whether to apply for this job, I wasn't even certain what Anabaptist or Mennonite meant. How do we welcome and include people from outside this tradition?"
"Let our excellence shine!"
"Don't be generic. It has to feel like Goshen.
We kept listening closely, revising and discussing, and gradually we converged on our new statement. I believe we have chosen language that is both aspirational and authentic. Here it is.
Goshen College transforms local and global communities through courageous, creative and compassionate leaders. Shaped by Anabaptist-Mennonite tradition, we integrate academic excellence and real-world experience with active love for God and neighbor.
For all of us who work for Goshen College, it is our unique privilege to steward this mission and to bring it to life through our programs, teaching and relationships. I am all in.
How does this mission statement resonate with your Goshen College story?
Rebecca Stoltzfus