Weather-related campus updates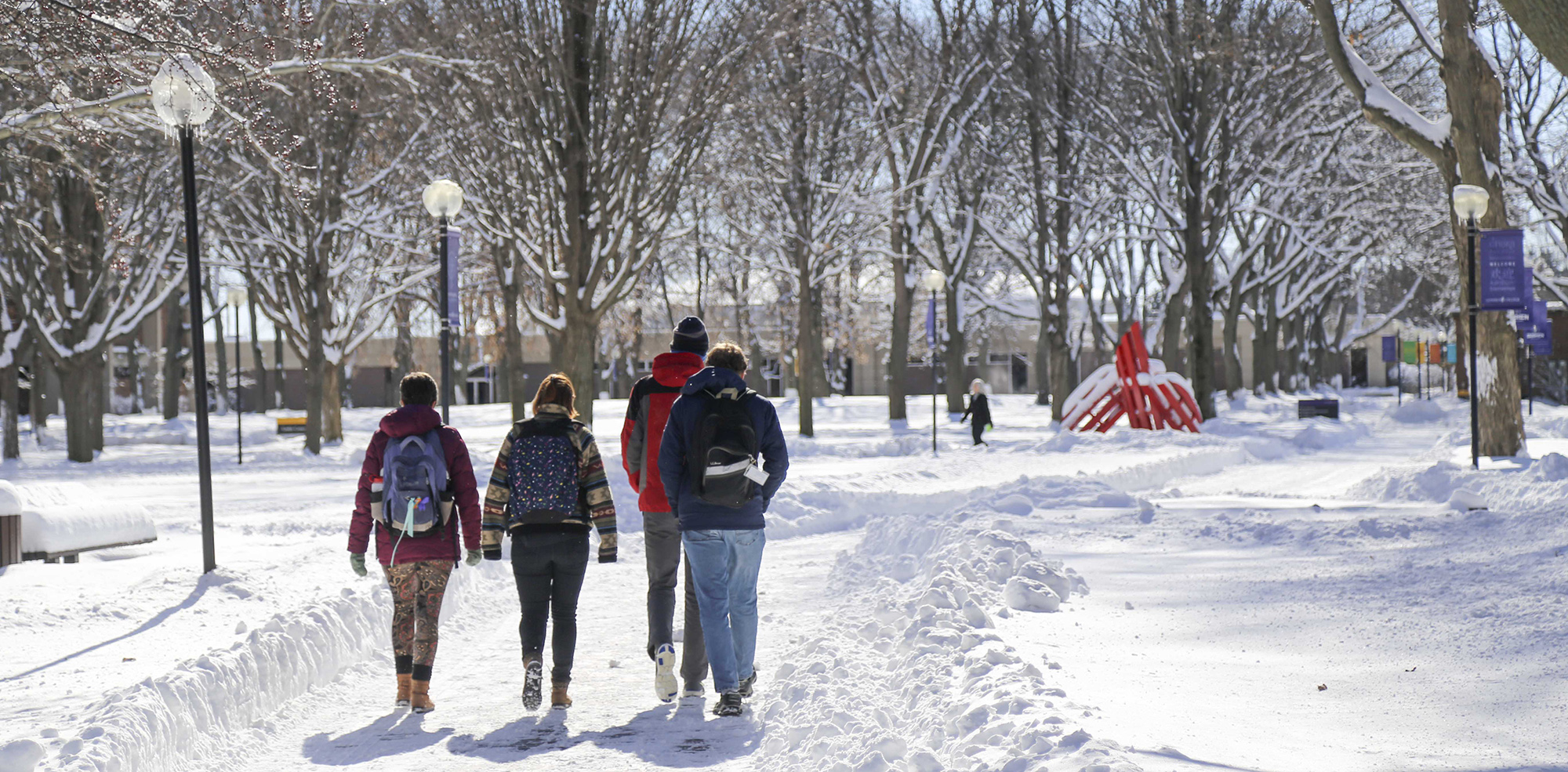 ---
» Related: View the Schrock Plaza live webcam on campus
---
2.1.22 — Campus changes for Winter Storm Landon
Due to the severity of Winter Storm Landon forcasted for Wednesday and Thursday, we need to announce a few changes to class plans and campus operations in order to give everyone enough time to prepare.
All Goshen College classes will be delivered remotely on Wednesday and Thursday this week (Feb. 2-3). Please check Moodle for information from your professors about what to expect in each of your courses.
Campus offices will not be open for in-person business, but employees who can work remotely from home will plan to do that. Essential personnel will report to work on-campus to meet the needs of our residential students.
In addition:
Extracurricular activities and campus events will be canceled.
All campus buildings will be available with card-swipe access only, except the Westlawn Dining Hall will be unlocked.
Snow removal will be focused on the most critical areas for residential students and essential services, so be prepared for not all areas being cleared and use extreme caution when walking and driving around campus.
The dining hall will be open from 10 a.m.-6 p.m. The Leaf Raker will be closed.
The Rec-Fitness Center will be available to students and employees only, with card-swipe access, from 8 a.m.-10 p.m.
The computer lab in the Union will be available as usual, with card-swipe access only. The ITS Help Desk will be available for service from 8 a.m. to 5 p.m.
The Good Library will be open from 1-5 p.m.
The Campus Post and Audio-Visual Desk will remain open with regular hours (10 a.m.-noon, 1-3 p.m.). Package delivery will be temporarily suspended. If a state of emergency is declared for the county, the office will be closed.
We will resume our normal on-campus and in-person learning and work on Friday, unless we communicate a change to that on Thursday.
Make sure all of your devices are charged before tomorrow. Enjoy the winter weather. And please stay safe and warm!
Thanks,
The Crisis Management Team:
Jodi Beyeler, vice president of communications and people strategy
Chad Coleman, director of campus safety
Cynthia Good Kaufmann, interim director of facilities and director of events
Gilberto Perez, Jr., dean of students
Ann Vendrely, academic dean
---
General information regarding weather-related emergencies and campus closures
Because of our desire to best serve the educational needs of our students and the investment that they have made, the college normally only closes for weather when there is a state of emergency issued by public authorities and it directly impacts most everyone who travels to campus. If the campus needs to be closed due to an emergency (weather or otherwise), we will announce that on radio stations WGCS-FM (91.1) and WFRN-FM (104.7), and on TV stations WNDU (Ch. 16) and WSBT (Ch. 22). As well, the college will use its emergency announcement system to send emails and text messages to students and employees, and it will also be posted on the Goshen College Facebook page (facebook.com/goshencollege) and the Goshen College website (goshen.edu).
If the college is closed due to a weather emergency, the dining hall will continue to be open for meals. The physical plant crew will clear snow from the sidewalks and parking lots after snowstorms. During normal workday times, the Physical Plant Office (535-7351) would know the status of snow removal efforts. If it is a weekend or outside of normal working hours, please call Campus Safety (535-7599) if you need to come to campus and wish to know if a particular parking lot has been cleared yet.
Though the college does not close frequently for adverse weather, above all, we seek to help ensure and promote the safety of all campus members during periods of hazardous weather or other adverse conditions. Therefore, students and employees are strongly encouraged to use caution and good discretion about traveling in such weather. We encourage you to make the decision that is right for you. If the college is open and you are unable to make it to campus safely for a class, final exams, or for work, please notify your professor, supervisor and other pertinent contacts.