91.1 The Globe wins fifth Radio Station of the Year Award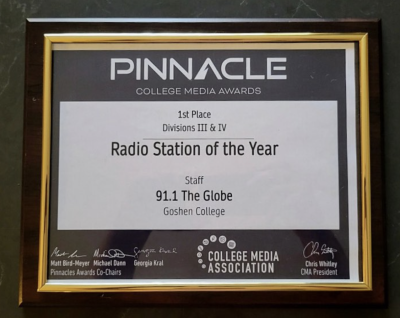 GOSHEN, Ind. – Faculty and students from Globe Media gathered with hundreds of other college broadcasters at three different educational industry conferences in October: College Broadcasters Inc. in Orlando, Florida, the Marconi Awards in New York City, and the College Media Association Pinnacle Awards in Atlanta. Students from The Globe and FiveCore Media received 18 individual awards across the three competitions.
91.1 The Globe was named "Radio Station of the Year" for institutions with enrollments under 3,000 students by the College Media Association with their Pinnacle Award at their annual National College Media Convention in Atlanta in October. This is the first organizational Pinnacle Award for The Globe and the station's fifth national title.
"This crew is one of the most talented I've ever had the privilege of leading. They're smart, funny and passionate about radio. I'm impressed by their talent and it shows in their work. I'm very proud of them," says Jason Samuel, associate professor of communication and general manager of 91.1 The Globe.
Globe Radio and TV staffers collected 11 individual Pinnacle Awards at the fall convention, including eight first places and one each for second, third and honorable mention.
Amelia Lee, a senior broadcasting major from Fort Wayne, Indiana, received first place for Best Audio Newscast, Best Use of Short Video for News, for her story about the resignation of Goshen Mayor Jeremy Stutsman, and Best Video Newscast, along with Alyssa McDonald, a junior broadcasting major from Murray, Utah. Also receiving first place awards was Dante Stanton, a senior broadcasting major from Elkhart, Indiana, for Best Audio Sportscast, Best Video Sportscast, and Best Audio Promo along with Seth Smith Kauffman, a junior communication major from Goshen, Indiana. FiveCore Media won first place for Best Video Promo/PSA for their work on the Communication Department promo.
Second place honors went to Lee, for Best Audio Special Event Coverage and her International Women's Day campaign. Stanton received second place for Best Video/Entertainment Program along with Smith Kauffman, and Mike Murrell, a senior broadcasting major from Elkhart, Indiana.
Third place honors went to Stanton and Smith Kauffman for Best Audio Talk/Entertainment program, along with Tyson Miller, a junior journalism and English double major from Syracuse, Indiana.
Honorable mention went to Lee and Stanton in the Best Audio Podcast category, for their show, Live from 1700.
College Broadcasters, Inc. presented Goshen College students with seven awards at National Student Production Awards during the National Student Media Convention October 18-21 in Orlando.
Lee received first place for her audio sports story about the new head coach for the Goshen Track and Field Team. Silas Immanuel, a junior film production major from Delhi, India, received first place for Best Documentary, with Sundown Town. In response to his first place win, Immanuel says, "This film is a small piece in the long journey that Goshen is taking. I am grateful to have been given the opportunity by Goshen College and Kyle Hufford to do my part in highlighting a story that was long due."
Stanton won second place in the Best Promo category for "The Globe Diner." Also in second place was Lee, in the Audio Hard News category for her story, "Local boy shot, community responds."
McDonald and Kate Bodiker, a sophomore writing and communication double major from Berlin, Ohio, received third place for their program, Locker Room Talk, in the Best Audio Sports Show category. Lee received third place in the Audio Feature News category, for her story, "Community remembers Jackie Walorski."
Cormac Koop Liechty, a junior broadcasting major from Goshen, received fourth place for Best Audio Sports Reporting, for his story featuring a new semi-pro soccer team in Goshen. In fourth place was Lee, in the Audio Hard News category.
At the Marconi Awards in New York City, The National Association of Broadcasters named 91.1 The Globe as a finalist for the College Radio Station of the Year along with four New Jersey universities: Montclair State University, Rider University, Seton Hall University and William Paterson University. This is the first time The Globe was nominated for this prestigious award. Seton Hall was chosen as the winner at the banquet on October 25th.
"I'm so grateful to lead The Globe as student station manager and to see everything we have accomplished, " said Lee, the Globe student station manager. This year is a banner year for the station and I'm excited to see everything else that we accomplish."
About College Broadcasters Incorporated National Student Production Awards:
CBI is a member-driven organization serving students and advisers of college and high school electronic media outlets. Through events, programs and a network of expertise, we provide our members with educational and professional opportunities and facilitate advocacy.
About College Media Association Pinnacle Awards:
The voice of collegiate media and its advisers, College Media Association serves student media pros, staff and programs with education, research and resources. CMA communicates and works with professional media organizations and education associations on the local, state and national levels.
About the NAB Marconi Radio Awards:
Established in 1989 and named after inventor and Nobel Prize winner Guglielmo Marconi, the National Association of Broadcasters Marconi Radio Awards are given to radio stations and outstanding on-air personalities to recognize excellence in radio.
The Goshen College Communication Department has been recognized in the state and nation for its excellence in broadcasting, journalism, speech, film production and writing. Students from Goshen College's Communication program receive hands-on learning experience through the department's co-curricular entities: The Record, GC PRSSA, 91.1 The Globe, FiveCore Media and Globe TV. To learn more visit goshen.edu/communication.