Senior Jakyra Green selected as finalist in competition for top state journalism students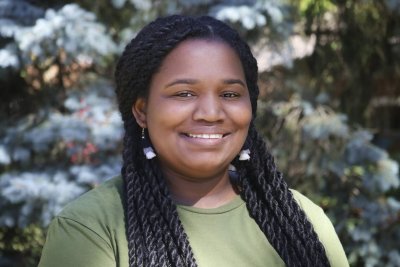 Jakyra Green, a senior majoring in education and English, is among the 10 finalists who will participate in the 37th annual Keating Writing Challenge in which the students have five hours to report and write a story.
The contest, which draws top college journalism students from across the state, will take place in Indianapolis on Nov. 3-4.
Green, who is from Goshen, submitted two published articles as part of her contest application this year. Last spring she served as the executive editor of The Record, Goshen College's weekly student newspaper, alongside senior Mariela Esparza, an English and secondary education double major from Elkhart, Ind.
Daniel Eash-Scott, a senior from Milwaukee with a major in history and minor in journalism, and Sadie Brenneman, a junior from Goshen with a major in journalism and a minor in marketing, were named the two alternates in the Keating competition. Eash-Scott will serve as executive editor of The Record in the spring semester, and Brenneman as digital managing editor.
The contest, sponsored by the Indianapolis Press Club Foundation, invites the 10 finalists to write a feature article on deadline about a topic provided to them that day.
"I'm so pleased that Jakyra will have this opportunity to share her exceptional reporting and writing skills," said Duane Stoltzfus, chair of the communication department and adviser to The Goshen College Record. "She has become a storyteller with flair."
The finalists will arrive in Indianapolis on Friday, when they will have one-on-one mentoring sessions with seasoned journalists. On Saturday, they'll report and write the feature article. Judges will review the articles in the afternoon. In the evening, the finalists will gather for an awards banquet at which the top three articles will be announced, with $7,000 in prize money on the line.
The other finalists are from Ball State University, DePauw University, Franklin College, Indiana University, Indiana University-Purdue University Indianapolis and Purdue University Fort Wayne. The contest began in 1986 as a tribute to Thomas R. Keating, a former Indianapolis Star columnist.