Goshen College's Lavender Jazz to present free concert April 5
Concert: Lavender Jazz Spring Concert
Date and Time: Wednesday, April 5, 7:30 p.m.
Location: Umble Center
Tickets: Free and open to the public
---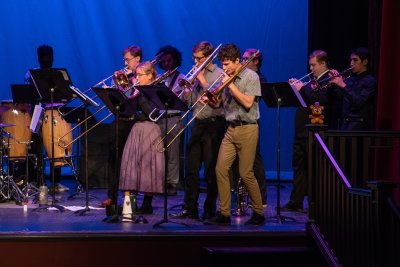 Lavender Jazz, Goshen College's big band jazz ensemble, will present a free concert in the Umble Center on Wednesday, April 5 at 7:30 p.m.
The concert is free and open to the public, with no tickets required.
The concert will feature charts for full ensemble and small combos. Lavender Jazz is directed by Greg Smucker.
Greg Smucker is a trumpeter, composer and teacher. He has performed with a variety of jazz and classical ensembles within northern Indiana, including The Truth in Jazz big band and Maple City Brass Quintet. He is currently the principal trumpet of the Maple City Community Orchestra, while also serving as the Executive Director. He enjoys composing and arranging music for various settings, especially for congregational singing.
Greg studied music at the Fort Hayes Performing Arts Career Center in Columbus, Ohio during high school. He then received a Bachelor's Degree in Music from Goshen College. Following graduation, he taught instrumental music at Bethany Christian High School for four years. For the last 33 years, he has owned and managed Snyder Paints in downtown Goshen.