Four senior Goshen College students to display artwork in upcoming exhibit
Exhibit: 2023 Senior Art Exhibit
Date and Time: Sunday, March 26, 2023, at 6:30 p.m.
Location: Hershberger Gallery, Goshen College Music Center
Cost: Free and open to the public
---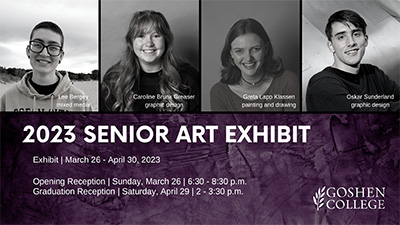 Four Goshen College senior art majors will show their work in the Music Center's Hershberger Art Gallery, with an opening reception on Sunday, March 26 at 6:30 p.m. The exhibit runs through Sunday, April 30, 2023.
The reception will include refreshments and short remarks from each senior about their work on display.
The artists include:
Lee Bergey is an art and sustainability studies major from Green Lane, Indiana. Bergey will show mixed media pieces that explore the region of Pennsylvania where they grew up, along with the area's folk and music traditions. Their work looks at environmental and water use issues, along with the beauty seen in the land and wildlife there.
Caroline Brunk Greaser is a graphic design and music major from Goshen. Greaser will exhibit brand design work she created for Center on 5th, a new private practice therapy collective that will be opening in downtown Goshen.
Greta Lapp Klassen is an art and English major from Goshen. Klassen will exhibit colorful acrylic portraits of students on campus in their bedrooms. The figures are painted with bright orange skin tones and are in stylized backgrounds.
Oskar Sunderland is a graphic design major from Seattle, Washington. Sunderland's exhibit will feature rebranded musical artist logos and reimagined tour posters for each artist.
The Hershberger Art Gallery is located inside the Goshen College Music Center, and is open during the week from 9:00 a.m. to 4:30 p.m. On weekends, the gallery is open from 2:00 p.m. to 4:00 p.m.